Multi-lingual, bombastic and charismatic Boris Johnson commands some of the key qualities to become a well-respected foreign secretary. The top Tory's eight-year tenure as Mayor of London also meant Johnson was a fixture on the world stage.
But his promotion to one of the high offices of state, as part of Theresa May's reshuffle, is not without controversy. New York-born Johnson, a part-time historian, sensationally suggested outgoing US President Barack Obama had an "ancestral dislike" of the UK because of his "part-Kenyan" heritage.
The comments came as Obama visited Britain in April to, among other things, intervene on the side of Remain in the EU referendum and warn the UK would be at the "back of queue" for a trade deal with the US if it broke from Brussels.
Hillary Clinton, the favourite to succeed Obama in the White House, has also been a victim of Johnson's barbs. "She's got dyed blonde hair and pouty lips, and a steely blue stare, like a sadistic nurse in a mental hospital; and as I snap out of my trance I slap my forehead in astonishment," Johnson wrote in a Telegraph column. The piece, published in November 2007, was surprisingly supportive of Clinton's failed bid to become the Democratic Party's nominee for president.
The great grandson of Turkish journalist Ali Kemal and a former supporter of Turkey's accession to the EU, you would not expect Johnson to be insulting the nation's president.
However, he pulled no punches with his winning entry to The Spectator's "President Erdogan Offensive Poetry" competition, with a piece suggesting the leader enjoyed an unhealthy relationship with goats. The poem reads: "There was a young fellow from Ankara; Who was a terrific wankerer; Till he sowed his wild oats; With the help of a goat; But he didn't even stop to thankera."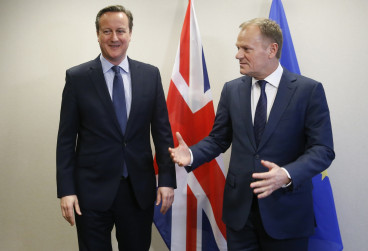 But it is less surprising that the chief Vote Leave cheerleader has caused offence among EU grandees. European Council president Donald Tusk slapped Johnson down for "crossing the line" after the Brexit backer compared the 28-nation-bloc to Nazi tyrant Adolf Hitler's plans for European domination.
"Such absurd arguments should be completely ignored if they hadn't been formulated by one of the most influential politicians in the ruling party," Tusk said.
"Boris Johnson crossed the boundaries of a rational discourse, demonstrating political amnesia. In some sense, he illustrated a state of mind and emotions of many Europeans, not only from the UK."
The row was the latest in a long track-record of anti-EU articles from Johnson. One of the most infamous pieces, authored when he was The Daily Telegraph's Brussels correspondent in the 1990s, claimed that the Berlaymont building, the current headquarters of the European Commission, was to be "blown up".
Thankfully for the EU and Johnson, May has made it clear that her new Brexit Secretary David Davis, a Leave campaigner and former Europe minister, will be leading the UK's negotiations with Brussels once Article 50 of the Lisbon Treaty is triggered.
Closer to home, however, First Minister of Scotland Nicola Sturgeon may have winced when hearing of Johnson's appointment. The foreign secretary once compared the SNP leader to a jewel thief with the keys to the Tower of London and King Herod "in charge of a baby farm".
It seems Western diplocacy is going to get a bit more colourful with Johnson's promotion. So far German Chancellor Angela Merkel has declined to comment on the appointment, while a US State Department spokesman was caught on camera attempting to hold back his laughter.
A salesman-style role saw him infamously declare that "ping-pong is coming home" at the 2008 Beijing Olympics and more recently Johnson made the news by accidentally running through a Japanese child during a tag rugby game.