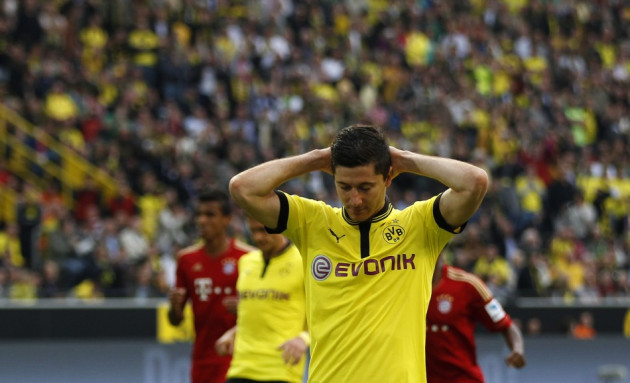 Robert Lewandowski's planned transfer to Bayern Munich in 2014 will sorely test Borussia Dortmund's nerve and could reawaken the notion that money isn't defisive in building a successful side.
Two scenarios have currently been presented to Jurgen Klopp and Dortmund over Lewandowski's future.
Either, he leaves this summer, to join a newly invigorated Bayern side who, after winning the treble for the first time in German football history, have added Mario Gotze and manager Pep Guardiola to their ranks as well. Having felt the force of Bayern both domestically and in Europe, losing a 34-goal striker to their bitter rivals could be a catastrophic blow to Dortmund.
The alternative, is that Dortmund can keep Lewandowski until the end of next season and let him go when his contract runs out.
This is the message that Bayern chief executive officer Karl-Heinz Rummenigge has heard loud and clear from Klopp, telling SportBild today: "I get the feeling that (Dortmund general manager) Mr Watzke means what he says. He is bound to have considered very well his remark that Lewandowski has got to stay."
While Rummenigge says Bayern were willing to discuss a deal with Dortmund for Lewandowski, he insists that the Bundesliga champions now understand that they will only sign striker next summer.
This scenario is no doubt also frustrating for Klopp, but it in fact gives Dortmund a better chance of competing with Bayern next term, a side whom many believe will be unstoppable during the 2013-14 campaign.
As Lewandowski has continually insisted that he wants a new challenge this summer, it gives Dortmund the chance to convince the striker in the coming months, and even January, that a move abroad rather than Bayern would be more favourable.
Equally, the Champions League revenue he could bring to Dortmund by staying at the club could prove to be greater than his transfer fee alone. After progressing into last season's final, Dortmund are set to receive up to €50m from UEFA, a lot more than they could demand for the Pole, despite his substantial contribution of late.
With a year to look for alternatives, Klopp can be patient in his search for replacements.
And there is certainly the possibility that with the right purchases to replace Gotze, with Henrikh Mkhitaryan having joined from Shakhtar Donetsk, and the addition of more depth in the squad using the money from the German's record-breaking fee €37m fee, they could possess the package to convince the Poland international from moving to Bayern.
A year can make a huge difference in the transfer window; Tottenham's last-minute attempts to sign Joao Moutinho, Liverpool's bitter disappointment at missing out on Clint Dempsey and Peter Odemwingie's rebellious trip to London all seem forgotten tales now.
In the case of Lewandowski, in a year Bayern could well have found a system on the system that makes the forward surplus to requirements.
While the positives are plain for all to see, Dortmund are still going against a huge trend in modern football in their plans to keep a player who is coming to the end of his contract. It's a risk and one worth taking.
But Dortmund are known for doing things a little differently to other top European clubs, and reaping the benefits of it.