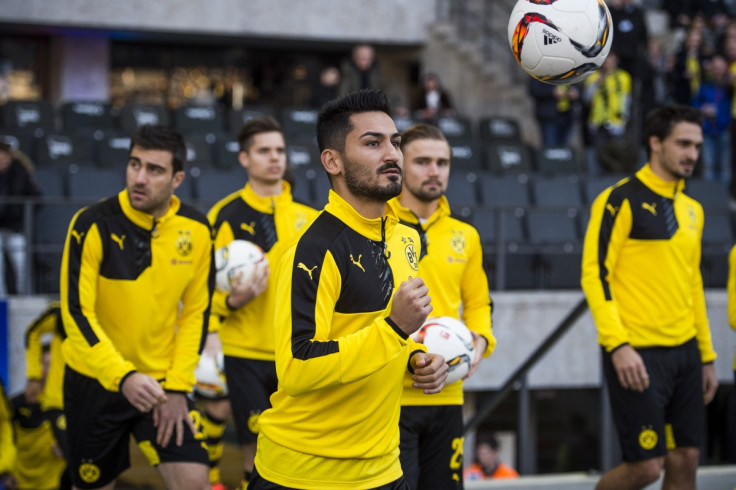 Borussia Dortmund are hopeful of recalling midfielder Ilkay Gundogan after the player upped his recovery from a foot injury on the eve of the Europa League quarter-final first leg against Liverpool. The Germany international has not played since the draw with Bayern Munich in March, but is in line for an appearance after missing five games in a row.
Mats Hummels and Sokratis Papastathopoulos also trained ahead of the game and are expected to be available for the visit of the Reds. Dortmund boss Thomas Tuchel said, according to DW Sports: "Ilkay trained with more intensity today. It's tight as to whether he'll play, but it looks better than it did on Saturday."
The game sees Liverpool manager Jurgen Klopp return to the Westfalenstadion for the first time as an opposition coach since leaving the club last summer. The 48-year-old earned legendary status at Dortmund during his seven-year spell there, during which time they won two Bundesliga titles and reached the 2012 Champions League final.
Klopp is expected to get a warm reception when he arrives with his Liverpool team, and successor Tuchel says he deserves every plaudit coming his way. "Jurgen, he's one of the most competitive guys I know," he added. "He deserves a welcome, but he's as eager to win as are we. For me, it's no different. It's the 6th time I've welcomed him back to his old club (laughing) so it's a routine for us.
"Borussia Dortmund is what it is now because of Jurgen Klopp. If it's eight months or eight years, Klopp's input will still stand. I look at my time at Mainz and I'm still happy when they win, so I think it could be the same for Jurgen with us."
Dortmund swept aside Liverpool's Premier League rivals Tottenham Hotspur in the last 16 phase and Tuchel admits he has had scouts watching the Merseyside club since the draw was made. "We haven't prepared anything differently for this game," Tuchel explained. "We've been calm since the draw was made. We have had the same focus as the Tottenham game. Both teams have become stronger.
"Liverpool have become stronger in recent weeks. They are difficult to create chances against. It's going to be hard to beat Liverpool. This is now their only route to the Champions League now and we're aware of that.
"As soon as the draw was made we had scouts watching Liverpool. It is a complete team effort to prepare for each game. Saturday until now we've been able to focus all of our attention on Liverpool. It's important to have a 'we' approach."