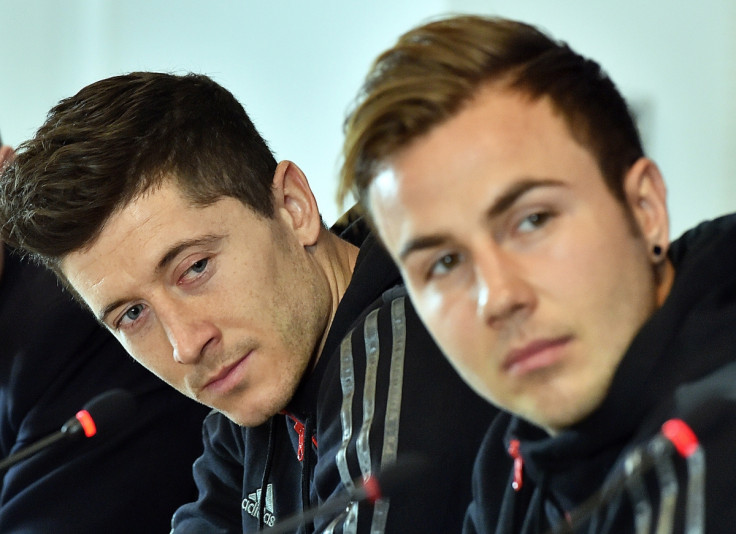 Bayern Munich's Mario Gotze has been told to ignore reported interest from Liverpool and instead prove he is good enough to play for the Bundesliga champions. Reports are rife that Jurgen Klopp is interested in uniting with Gotze, who began his professional career with Borussia Dortmund before moving to the Allianz Arena.
The Mirror understands the Reds are preparing a £37m ($52.4m) bid for the Germany international, as the club begin preparations for next season. Klopp has been adamant he will not focus his efforts in the transfer window on signing players from the Bundesliga, but he could yet make a move for Gotze.
In a campaign littered with injury problems, the 23-year-old has made just six Bundesliga starts for Pep Guardiola's side, and has seen his career stall since scoring the winning goal in the 2014 World Cup final. Liverpool's interest appears natural given the uncertainty over his role at Bayern, but teammate Robert Lewandowski has told Gotze to overlook the interest.
"Mario proved during the international break that he is always capable of showing what he can do and that he is a great player," he said, according to The Daily Mail. "He should not be reading what people say about him in the papers. He does not need all the extra pressure. Mario knows how to deal with it, though. He is used to it.
"It is silly that there is so much talk about him. He is a Bayern player and he has plenty of games left until the end of the season to prove that he is good enough for Bayern. He has plenty of time to prove his critics wrong. He should stay at Bayern for a long time because he is a great player."
Klopp has already begun planning for next season after securing the signing of Joel Matip on a pre-contract agreement from Schalke. Though hopes of winning silverware this season are not yet over, in the form of the Europa League, it is likely Klopp has already made certain decisions over the make-up of his Liverpool squad for next season.
Former player Kevin Keegan believes it is inevitable Klopp will look to the German league to supplement his squad. "I think Jurgen Klopp is the perfect fit for this club," the former European footballer of the year said, according to the Liverpool Echo. "It will be very interesting to see who he signs this summer. He's already signed the boy from Schalke [Joel Matip] on a free and I'm sure he will go back to the Bundesliga again.
"What I like about him is that he wears his heart on his sleeve. He kicks and heads every ball, and that passion is one of the reasons fans love him so much. I hope he gets the club back to where it was."