Boston Marathon Bombings: FBI Hunts Terror 'Sleeper Cell' Linked to Tsarnaev Brothers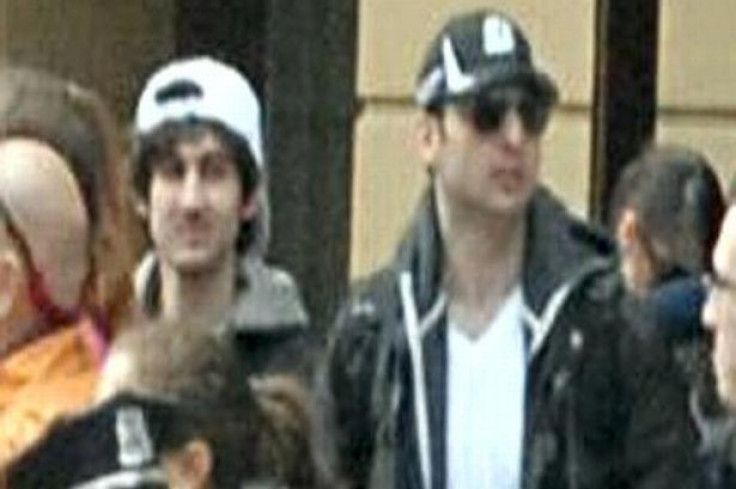 The FBI is hunting a 12-man terrorist "sleeper cell" linked to the brothers suspected of carrying out the Boston bombings.
The Bureau believes that Tamerlan and Dzhokhar Tsarnaev received training in bomb-making before they carried out the attack, which killed three people.
Tamerlan, 26, was killed in a shoot-out with police in the early hours of Friday. His brother Dzhokhar is in intensive care at a Boston hospital, and remains unable to speak due to gunshot wounds to the neck.
It emerged that a man and two women were arrested 60 miles from Boston in the port of New Bedford in the hours before Dzhokhar's capture. The three are believed to be of college age.
According to the Sunday Mirror, a source close to the investigation said: "We have no doubt the brothers were not acting alone. The devices used to detonate the two bombs were highly sophisticated and not the kind of thing people learn from Google.
"They were too advanced. Someone gave the brothers the skills and it is now our job to find out just who they were. Agents think the sleeper cell has up to a dozen members and has been waiting several years for their day to come."
More than 1,000 FBI agents have been assigned to track down the cell. A specialist team of CIA and FBI interrogators is on hand at Beth Israel Deaconess Medical Centre in Boston, waiting to question Dzhokhar.
The FBI has admitted interviewing Tamerlan two years ago, at the request of the Russian government, but said it wound up its inquiries after interviews with Tamerlan and other family members "did not find any terrorism activity, domestic or foreign".
The FBI now says the pair were part of a terrorist cell, though they were not under surveillance at the time of the bombings, US Government officials said.
The brothers were carrying six bombs, a handgun and a rifle at the time of the shoot-out in which Tamerlan was killed. Three devices - thought to be pipe bombs - were detonated.
Investigators are working to establish whether the brothers had help in making the bombs, which were contained in pressure cookers and packed with nails and ball bearings.
Their mother Zubeidat, speaking from her home in Russia, claimed the boys had been framed by the FBI, saying the bureau had been "controlling" Tamerlan for the past five years. Their father Anzor has also said he believed his sons had been "set up" by the FBI.
Tamerlan, a talented boxer, was said by neighbours to have become increasingly radical in his Islamic beliefs in recent years.
The FBI are retracing his movements during a six-month trip he made to the Russia Caucusus last year, including a visit to Chechnya, during which his extremism is said to have caused arguments with family members.
"It's a key thread for investigators," said Kevin Brock, a senior FBI counter-terrorism official.
Tamerlan's American wife Katherine Russell, 24, with whom he had a three-year-old daughter Zahara, is said to have converted to Islam when she married him, and taken to wearing the veil. She was taken in for questioning by FBI agents on Friday.
Tamerlan's Russian-language YouTube page contains numerous links to extremist Islamic sites, including one that features an hour-long speech by the radical cleric Feiz Mohammed, along with other videos labelled "Terrorists" and "Islam".
Dzhokhar, a scholarship student with ambitions to become a brain surgeon, was described by friends as more "mild-mannered" and "easy going" than his brother. Popular with fellow students, he was said to enjoy smoking marijuana, and was seen by friends "looking relaxed" at a college party two days after the bombings, shortly before police released photographs of the two suspects.
Dzhokhar is said to have run over his brother as he made his getaway in a stolen SUV while Tamerlan lay handcuffed on the ground with fatal gunshot wounds late on Thursday.
Investigators have confirmed they will invoke public safety powers to interrogate him without reading him his "Miranda" rights to remain silent and have a lawyer present.
Authorities hope he will not invoke his right to silence, and will talk to them about any other terrorist threats, and the location of possible further explosives.
Prosecutors are considering appropriate charges, with a federal charge of using a weapon of mass destruction to kill people carrying a possible death sentence, though there is no death penalty in the state of Massachusetts.
Three people died in the attacks on the marathon and another 176 were injured. A policeman at the Massachusetts Institute of Technology was shot dead during the subsequent manhunt.
© Copyright IBTimes 2023. All rights reserved.