Boston Police Poke the Anonymous Bear: Officers Answer Lulz with Sarcasm [VIDEO]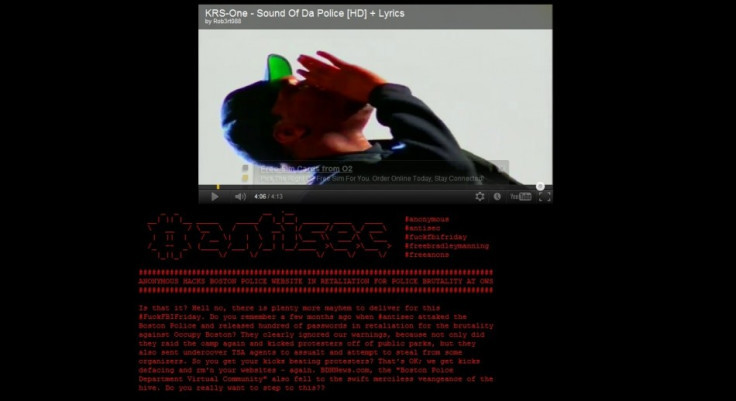 Responding to Anonymous hackers' recent attack on its www.bpdnews.com website, the Boston Police Department has released its own video mocking the collective.
Spotted by Sophos analyst Graham Cluley, the video begins with a rap song later moving to a testimony from a number of officers. The officers all offer their own sarcastic, sardonic and at points entertaining commentary on what they were doing when the site was hacked.
"I had gone into Dunkin' Donuts and was getting a nice cup of coffee and the girl said to me 'I heard your site got hacked' and she said 'why would somebody do anything like that?' and I said 'I don't know I don't get it,'" said one officer. Later on they sarcastically report how the time without the site left them "upset and confused".
The video is a response to Anonymous's F**K the FBI Friday attack on www.bpdnews.com. The attack saw the collective target www.bpdnews.com, replacing the site's front page with a video of KRS One's "Sound of 'da Police".
Following the hack, the site remained offline for nearly a week. Anonymous cited its motivation for the attack as Boston Police's alleged acts of brutality against Occupy protesters.
"They clearly ignored our warnings, because not only did they raid the camp again and kicked protesters off of public parks, but they also sent undercover TSA agents to assualt [sic] and attempt to steal from some organizers.
"So you get your kicks beating protesters? That's OK; we get kicks defacing and rm'n your websites - again. BDNNews.com, the 'Boston Poice Department Virtual Community' also fell to the swift merciless veangeance [sic] of the hive. Do you really want to step to this??" Read Anonymous's statement.
Despite the entertaining nature of Boston Police's response, analysts have questioned whether the move will cause a follow up attack from Anonymous, or one of the related copy-cat "skiddie" groups.
Anonymous has in the past responded to challenges or sarcasm thrown its way. In January the collective targeted UFC's website after the company president Dana White challenged the Anonymous to hack his site.
"All these hackers and all these guys that want to act f*****g cool and think they're f*****g funny, you guys just flipped the switch and believe me I have a lot more information on what's going on than you do," said White. "This bill that was looking like it was going to be dead, you may have brought it back to life," said White."I'm not afraid of you, you don't f*****g scare me, you come in and do your thing, you don't scare me."
The collective subsequently mounted a cross-site scripting attack on the site creating a custom page on the site with Anonymous's statement.
© Copyright IBTimes 2023. All rights reserved.