Toymakers from around the world met in London from Tuesday to Thursday last week (23-25 January) to prexent their newest creations at the 2018 London Toy Fair.
Among the wide range of dolls, bikes, plush bears and small drones, you could find a tiny little green and blue robot named Botley.
Botley the Coding Robot is the brainchild of Learning Resources, whose aim is to "deliver fun and experiential learning experiences for children". Measuring about 15cm and coming with a pair of big round eyes and detachable "arms", he looks like a tiny Wall-E.
Botley is designed to get children excited about STEM (Science, Technology, Engineering and Maths) subjects and teach them how to code. But here's the plot twist: Botley is 100% screen-free.
He uses cards and logic to teach the basics of coding to kids as young as five. He's intended to give kids basic notions of programming to develop their critical thinking and problem solving abilities while growing up.
Botley can program about 80 steps in one sequence, and answer to a large variety of commands. He works with a remote control that children have to press in order to determine their directions: left, right, backwards, forwards, reverse, u-turn and more.
He can also interact with objects, avoiding or detecting them and speaks his own language of beeps and tuts. For instance, when left unattended for too long, he will try to get his owner's attention with a little "yoohoo." But Botley comes with hidden sound features the children will learn to discover with time.
"He has its own character, that's the beauty of Botley," Learning Resources Head of Marketing Simon Tomlinson told IBTimesUK.
Botley is designed to accompany children in their evolution and to "grow with them".
"If they get more complicated in what they want to try to make him do, then there are more features that Botley can do with them," says Tomlinson.
Botley the Coding Robot is available from £59. An activity set is available for £79.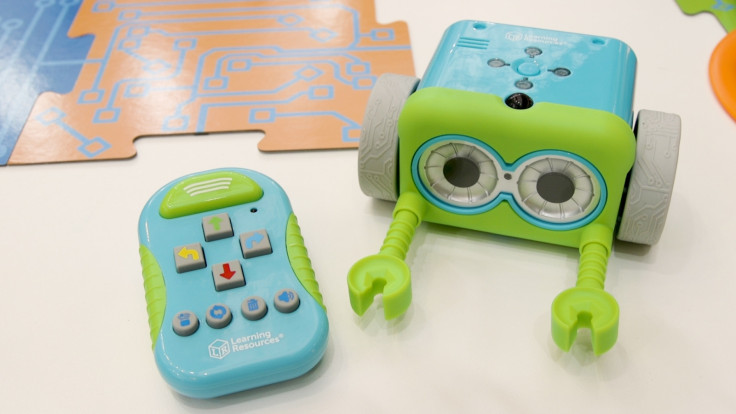 On the other side of the fair, you can find robots designed in the same spirit as Botley, but for teenagers.
Made out of black plastic and metal, the robots from Binary Bots look more like droids. They would fit better in a mad scientist's lab than in a teen's bedroom, and it's part of their appeal.
Their newest range, Totem, consists of three animaloid robots, coming in the form of a tortoise, spider and a crab.
As with Lego, you have to build the robot up from scratch. Their detachable parts mean you can switch your crab's legs for wheels in an instant and program it so that it drives rather than walks.
Teens will have to create their very own Totem from start to finish and can code them into developing certain features, from their looks to their possible interactions with humans.
Once the parts are put together, a sensor chip brings the robot to life. The tortoise, crab and spider can showcase "instinctive emotions" like anger or happiness, and come with special features as well, like going up and down on a web, hiding in their shells or moving their claws.
Chris Burgess, Binary Bots' managing director, really wanted to stress the importance of touch in robots, and equipped all of Totem's range with a kinetic sensor. If you poke the sensor, the robot will get annoyed with you and act agitated.
"Don't poke me, you'll make me cross, or give me some attention," translates Burgess as he gives a demo of what the different robots can do.
To calm the robots down, you'll need to stroke them gently where the sensor is. "You can code it so that if you didn't stroke every few minutes [...] it's been abandoned and can get upset and start making noises for you," adds Burgess.
For Burgess, smart toys like the Totem range have evident benefits for kids: "It's about them learning coding, learning robots and then being inspired to build something else."
A robot from the Totem range costs £59.99, "so that as much children as possible can have access to robotics," says Burgess.