When Anthony Ogogo was knocked down twice in the final round of his semi-final bout against Brazilian Esquiva Florentino he knew that his Olympic dream had ended. The body language, hands on hips and head bowing to the canvas, told you that he was bitterly disappointed. Yet, this defeat still resulted in a hard-earned bronze medal that at one stage had looked near impossible to achieve.
As Ogogo proudly sits across from me, proudly holding on to his bronze medal, he admits that the journey to London has made the achievement all the more special.
"At first I was bitterly disappointed to win the bronze as I knew I could beat that Brazilian, but it means more to me just to medal because of the journey I have taken," admits Ogogo.
The middleweights' path to London was littered with obstacles. One of the favourites to secure early qualification for the Games, he dislocated his shoulder and ignored doctors' orders by fighting in the world championships and refusing to give up on his Olympic dream.
En-route to the semi-final, Ogogo once again dislocated his shoulder and was forced to box a Brazilian, the same man who would defeat him at the Olympics, with just one arm. The loss meant that he missed out on qualifying for London and was forced to finally have surgery on a shoulder which had been seriously damaged.
"I lost by four points to the Brazilian with one arm as I literally couldn't lift the other one. That was my fight to qualify but I didn't make it. It was absolutely soul destroying," says Ogogo while subconsciously touching the shoulder which so nearly shattered his dream.
Four months of intense physiotherapy followed and finally Ogogo was once again presented with the opportunity to seal his place in the Team GB squad. However, this time it was not a physical hurdle to overcome but a mental one.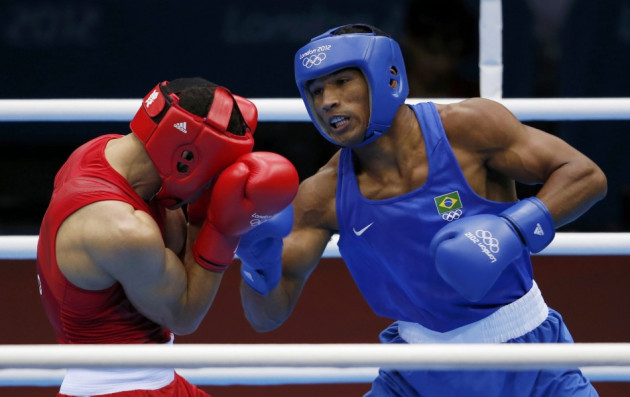 Ogogo's mother, Teresa, had suffered a brain haemorrhage and was rushed into hospital. Forced to try and focus his mind on getting back into the boxing ring was not easy, but the 23-year-old was determined to live out his Olympic fantasy.
"Just getting there was an absolute ordeal," states Ogogo. "At one point I found myself six points behind going into the final round and you just don't turn that around. It was a massive effort but I said a little prayer and thankfully won the fight and sealed qualification."
Having secured his place in the 10-strong boxing team that would compete in London, Ogogo was challenged on a daily basis by a team of coaches led by Carl Froch's trainer Rob McCracken. Sparring with the three-time super-middleweight champion was often on the agenda and provided the Lowestoft boxer with the chance to test himself against the very best.
"My speed and movement caused him trouble in the early rounds but then his power would cause me problems as the sparring continued," admits Ogogo with a proud smile on his face.
However, nothing could prepare him for the sheer magnitude of competing at an Olympic Games. The enormity of the task was further enhanced when the draw was made. Ogogo would be fighting the world number one and current world champion in the second round.
"I thought f*****g hell, not him again," is Ogogo's honest appraisal of facing Ievgen Khytrov of Ukraine. "I saw him at the worlds when he knocked everyone out and he just looked like an animal. It was hard to focus on the Dominican [Junior Martínez] knowing that I had the Ukrainian next, that's why it was close.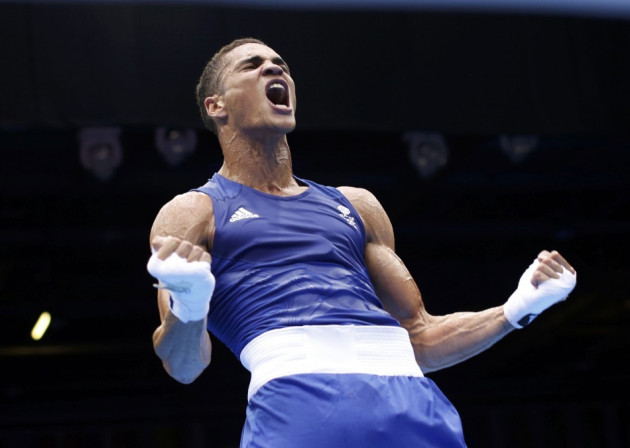 "But I knew I was going to beat him. If you stand in front of him he looks brilliant and he will knock you out, but if you hit and move and keep him off balance, you will win, and I did."
Having then beaten Stefan Hartel of Germany to make it to the semi-final, Ogogo suddenly realised he would be facing the Brazilian that had beaten him when boxing with one arm. Here was another obstacle to overcome.
Unfortunately it proved one step to far and Ogogo was forced to watch on as his team-mates Nicola Adams, Luke Campbell and Anthony Joshua all claimed gold.
Now comes, what Ogogo admits, is the biggest decision of his life. Does he remain an amateur and look to turn bronze in to gold, or should he join the professional ranks where fame and fortune awaits?
"It's a tough one," says Ogogo, who spends plenty of time considering his answer. "It's a decision which is going to affect the rest of your life. I need to make it with a clear head, mind and body.
"I haven't switched off since the day I hurt my shoulder in April last year. My mind is so tired, hopefully when I come back from holiday it will be obvious what I want to do. I couldn't tell you right now; I may want to upgrade it to gold, or I'll be happy with this and decide go pro, or I'll be fed up with boxing and decide I'm going to go back to football and play for Manchester United. Whatever I decide I'm going to do, I will be the best as I am so dedicated."
The decision may not come for some time. For now, Ogogo wants to spend time with him mother, who is still in hospital, and simply get away where he can relax and switch off. While we can safely rule out a career in football, boxing is destined to have a star on its hands. Whether that is in the amateur or professional game, we wait to hear his decision with baited breath.
'Anthony Ogogo is represented by Wasserman'