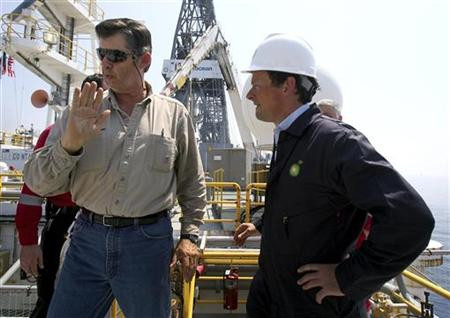 BP, which makes up one of the largest consitutents of the FTSE 100 share index, is down 17 per cent today after failing to stop the oil leak - its lowest price since March 2009.
The resulting decline is dragging down the FTSE which is down over 100 points.
"We will continue to pursue any and all responsible means of stopping this leak until the completion of the two relief wells currently being drilled," Obama said in a statement after the news, noting that the wells will take months to complete.
Obama has faced increasing criticism for the delays - much as his counterpart George Bush did when faced with Hurricane Katrina.
"It is as enraging as it is heartbreaking, and we will not relent until this leak is contained, until the waters and shores are cleaned up, and until the people unjustly victimized by this manmade disaster are made whole," Obama added.
The operation was given a 60-70 per cent chance of success but investors sold their shares on Friday even before it went ahead, sending the shares down 5 pct.
However, with the failure now evident BP's market value has fallen another 15 pct as expenses due to the oil spill reach $990 million - almost $1 billion a significant amount of profits which BP average around $4 billion per quarter.
"I am disappointed this operation did not work," John Hayward, BP CEO, said in a statement. "The team executed the operation perfectly and the technology worked without a single hitch."
The resulting falls in the FTSE 100 were made up by over half by BP's decline, and analyst Dougie Youngson at Arbuthnot Securities said he thought it now unlikely BP could solve the oil leak in the short term:
Last weekend's operations for me were really the last opportunity for them to kill the well and what they're proposing to do next has a real potential for making the situation worse," he said.
"I don't really see what positive news there will be in the short term. This will continue until August whenever the relief wells are completed, I don't really see there being anything positive coming out in any real shape or form in the short term."
Overall, the FTSE 100 declined 119 points (2.31 pct) leaving the level close to 5,000 again which it recently fell beneath after eurozone worries on short selling.
BP's fall is another blow - whilst eurozone worries continue to pressure bank shares and metal prices 'weighed' on miners.
Prudential and Scottish and Southern Energy however were rising as both appeared to be unlikely to pull off any 'deals' with AIG and French utility EDF in the current market climate.
"With the weakness on Wall Street we saw on Friday, and the uncertainty over the eurozone, the fragility of the market certainly hasn't gone away ... we are back to risk aversion," said Richard Hunter, head of equities at Hargreaves Lansdown.