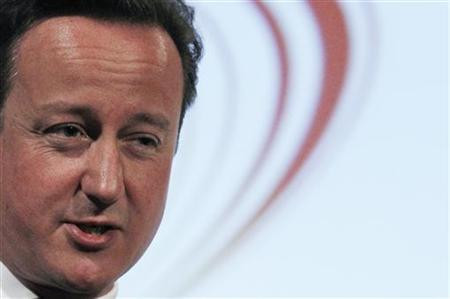 British Prime Minister David Cameron is to walk something of a diplomatic tightrope on his visit to the U.S. as he faces the prospect of having to defend BP while also answering questions about the role the company may have played in securing the release of the Lockerbie bomber last year.
BP has faced the rage of the U.S., from the humblest Louisiana fisherman up to President Barack Obama himself, thanks to its role in and initial reaction to a giant oil spill caused by a deadly explosion at its Deepwater Horizon facility.
BP was left with the blame for the subsequent environmental disaster and the loss of livelihoods in the Gulf of Mexico. The company CEO even had to face an interrogation by Congress in which he failed to impress his critics who said he simply stonewalled them by saying they should wait until a full investigation had been carried out.
Since the disaster struck in April shares in BP have tumbled to half of their previous value, leading to fears it could be taken over by foreign rivals, such as Exxon Mobile.
Now however BP faces yet more attacks as U.S. legislators are looking not just at BP's safety precautions in the Gulf of Mexico, but at the possibility that the company may have lobbied for the release of Abdelbaset Ali al-Megrahi, the man convicted of killing 270 people with the bombing of Pan Am flight 103 in 1988. Of the 270 victims 190 were from the U.S.
Al-Megrahi was released last year by the Scottish government after serving only nine years of a life sentence. The Scottish Justice Secretary, Kenny MacAskill, said he was released on "compassionate" grounds as he had been diagnosed with cancer and given three months to live. A year on al-Megrahi still lives and does not appear to be close to death.
Mr Cameron now faces the tough task of defending BP from U.S. attacks over the oil spill and the al-Megrahi affair, as the company is a major contributor to British pension funds, while simultaneously maintaining his position that the release of al-Megrahi was a "mistake".
The Prime Minister is to meet with four senators from New York and New Jersey to discuss the allegations that BP lobbied for the release of al-Megrahi to secure oil deals with Libya.
A Conservative backbencher, Daniel Kawczynski, who also serves as chair of the all-party group on Libya, has called for a public inquiry into the issues surrounding the release of al-Megrahi.
BP has admitted that it told the previous Labour government that Britain's commercial interests could suffer a "negative impact" if a prisoner transfer deal with Libya, widely seen as a diplomatic way of effectively releasing al-Megrahi, was not agreed quickly.
By 10:46 today shares in BP were down 1.63 per cent to 391.55 pence per share on the FTSE 100.