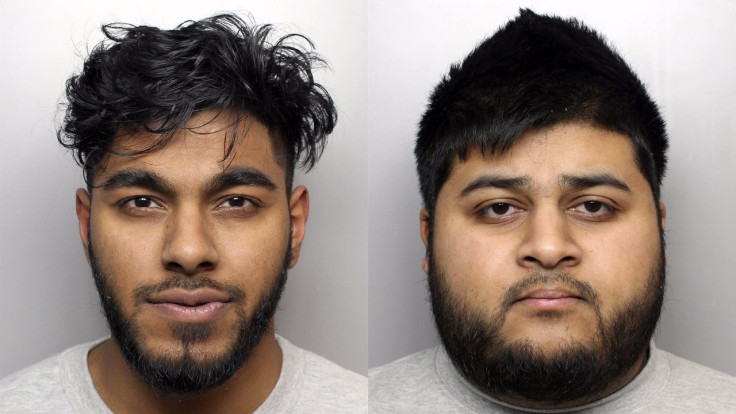 Two young men who killed a taxi driver and his passenger while racing their BMW and Range Rover at speeds of up to 85mph have each been jailed for seven-and-a-half years. Mirza Malick, 64, was taking his passenger Paul Hayward, 55, to church when they were hit by one of the boy racers as they sped side-by-side along a road in Bradford.
The horror crash, on a Saturday morning in January, saw the taxi roll over multiple times.
A judge described the case as "approaching the worst" of its kind.
Muhammed Sikder, 27, and Ismail Miah, 23, both pleaded guilty to causing death by dangerous driving last month.
During the pair's sentencing at Bradford Crown Court on Friday (16 September), the court heard how seconds before them "catastrophic" crash the two defendants were "side-by-side, challenging each other".
Cameras caught Sikder's BMW travelling at up to 75mph as it raced the Range Rover, driven by Miah, which was travelling at up to 85mph, along Shipley Airedale Road.
The BMW struck Malick's Proton taxi, sending it rolling down the 40mph road. The BMW and Range Rover also collided with each other after the impact.
Family statements read in court expressed the horror of what the two men in the taxi must have experienced as the Proton "rolled over and over until it stopped".
Judge Jonathan Durham Hall said the defendants – "two young men, otherwise entirely decent but, on the day, entirely absorbed and entirely selfish" – were "driving high powered cars in a race on a major arterial route, with a 40mph limit, which you knew well, on a Saturday morning, at about 10 o'clock, at speeds which defy belief".
He told the pair: "You gave no thought save to the challenge by one, whoever it was, taken up by the other ... It was inevitable that death would be the result."
Miah, 23, of Springfield Place, and Sikder, 27, of Sylhet Close, were also banned from driving for nine years.
The judge accepted that some people would see the sentences as too lenient but said he had to give credit to the two men for their guilty pleas. He added: "No doubt my superiors, as we speak, are examining this offence and the sentencing policy."
In victim impact statements, the court heard that Malick's widow has "lost half her soul" due to her husband's death.
Haywood was a schizophrenic who lived at a nursing home. He was travelling to a Bradford city centre church at the time of the impact.
In a statement issued through West Yorkshire Police, the families of the two men who died said: "We welcome today's sentence and hope that it sends a strong message to others about the consequences of dangerous and reckless driving.
"We would like to thank all the emergency services who have been involved in the investigation and the support we have had throughout this difficult time."
Sergeant Carl Quinn, who led the investigation, said: "Their driving on that fateful day was foolish, reckless and highly dangerous and sadly resulted in the untimely deaths of two men. Their families are understandably distraught by what has happened."