The man who was chairmen of Bradford City football club when its stadium caught fire and killed 56 people saw several other businesses he owned or was associated with catch ablaze, according to reports.
Stafford Heginbotham allegedly had at least eight other businesses linked to him catch fire between 1967 and 1981 before the Valley Parade disaster occurred in 1985.
The revelations emerge in a new book by Martin Fletcher, a Bradford City fan who lost four members of his family in the fire.
Fifty-Six: The Story Of The Bradford Fire, serialised by the Guardian, alleges Heginbotham was in financial trouble prior to the fire at Bradford's stadium and learnt it would cost around £2m ($3m) to bring the ground to the standards needed following their promotion to the old Second Division.
Fletcher also said the club's former owner experienced eight more fires at businesses he either owned or had subsidised with over a 15-year-old period. These included a blaze at Genefoam, of which Heginbotham was the managing director in 1968, and a fire at a plastics factory at Heginbotham-owned Douglas Mills in 1981.
While Fletcher never makes any direct allegations between the business owner and the fires, he asks: "Could any man really be as unlucky as Heginbotham had been?"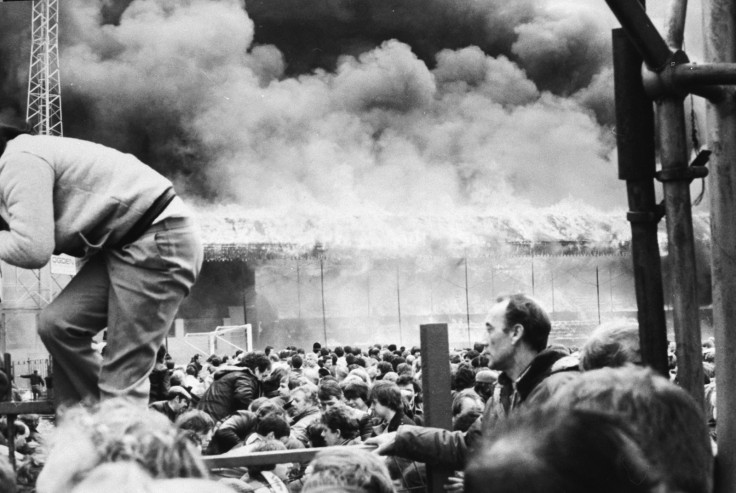 Fletcher - whose brother Andrew, 11, father John, 34, uncle Peter, 32, and grandfather Eddie, 63, all died in the fire at Valley Parade - has never accepted a version of the events concluded by an inquiry.
The Popplewell Inquiry ruled the fire was as result of a cigarette or tobacco falling through a damaged empty space beneath the seats of the main stand and on to a pile of rubbish that had been accumulating for 20 years.
Heginbotham, who died in 1995 aged 61, was never prosecuted over the fire but a coroner later said he did consider bringing forward manslaughter charges.
Discussing Heginbotham's history with fires at his other businesses, Fletcher writes: "To quote a Los Angeles Police Department fire investigator in Blaze, the Forensics of Fire by Nicholas Faith: 'It's rare to have a coincidence. If we start having multiple coincidences then it's not a coincidence.' It is clear to me that at Bradford, with Stafford Heginbotham in charge, there was a mountain of coincidence."
Fletcher's book, Fifty-Six: The Story Of The Bradford Fire, is to be published on 16 April.