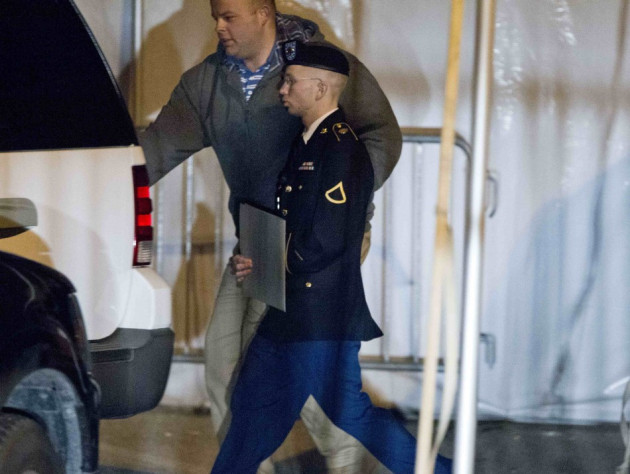 Bradley Manning, the US army soldier accused of providing secret cables to Wikileaks, has admitted that he was the source of the leak. However he pleaded not guilty to the most serious charge, that of helping the "enemy".
The 25-year-old pleaded guilty to 10 relatively minor charges against him out of the 22 charges during a pre-trial hearing at a military court in Fort Meade, Maryland.
Manning could face a maximum of 20 years in prison for the charges he has admitted to. His court martial trial is set to begin on 3 June when prosecutors could pursue the remaining 12 charges.
Manning is likely to get life imprisonment if he is convicted of all the 22 charges in the case which pertains to the biggest-ever leak of confidential US documents in history.
"I thought these cables were a prime example of the need for more diplomacy. In many ways they were a collection of cliques and gossip," said Manning of the leak of 250,000 US diplomatic cables.
The Private First Class soldier said that he had passed on the top-secret documents because he felt Americans have the right to know the "true costs of war".
"I believed that if the general public, especially the American public, had access to the information... this could spark a domestic debate on the role of the military and our foreign policy in general," said Manning while reading from a 35-page document.
Dressed in full military uniform, Manning told the court: "I thought these cables were a prime example of the need for a more open diplomacy. I believed that these cables would not damage the US. However, I believed these cables would be embarrassing."
Manning has already spent more than 1,000 days in the jail in Quantico Marine Base in Virginia.
He also recounted the incident of two Reuters' employees along with a group of other civilians killed in a helicopter attack in Iraq. Manning said "the most alarming" aspect of the video was the "seemingly delightful bloodlust" of the aerial team.
He added: "For me that was like a child torturing an ant with a magnifying glass."
Earlier, the judge had ruled that Manning's sentence would be reduced by 112 days over harsh treatment meted out to him during his confinement.