US soldier Bradley Manning, accused of leaking more than 700,000 confidential documents regarding the wars in Iraq and Afghanistan, has been found not guilty of "aiding the enemy."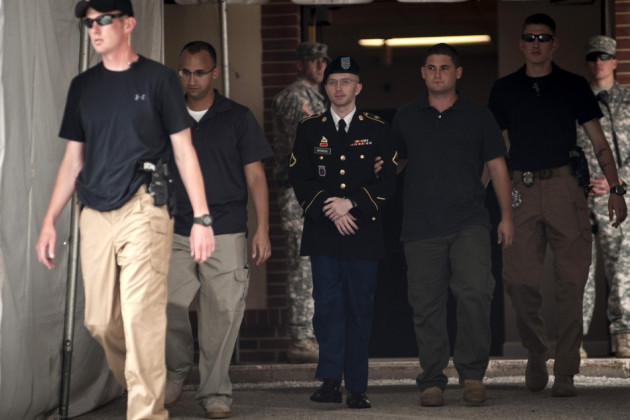 Manning faced 22 charges from a US military court over accusations that military documents he leaked to whistleblower site Wikileaks were obtained by terrorist organisation al-Qaida.
Under US law, aiding the enemy is a capital crime.Though Manning has now been acquitted of this charge, prior to the verdict, his prosecutors had already said they would not seek the death penalty.
Despite being acquitted of aiding the enemy, Manning was still found guilty of 17 other charges and amended versions of four more, including five charges of espionage and five of theft of government property. His sentencing period will begin on 31 July at 9.30am EST (2.30pm GMT).
He could receive a sentence of up to 130 years in prison and is unlikely to ever be released.
In February, 2013, Manning pleaded guilty to 10 lesser charges of unauthorised distribution of classified information. However the US military trial, presided over by Colonel Denise Lind, ignored his plea and instead pursued 22 fuller charges against him.
The prosecution against Manning alleged that the leaked documents, which had appeared on whisleblowing website Wikileaks, were eventually obtained by terrorist group al-Qaida, with some of them found on the hard drive recovered during the raid on Osama Bin Laden's compound on May 11, 2011.
The prosecution alleged that Manning "knew the danger of revealing information to an organisation like WikiLeaks, and he ignored that danger."
Manning's defence attempted to rationalise the soldier's actions, explaining that his discomfort regarding the US Army's activities in Iraq and Afghanistan drove him to leak the documents. Manning's defence attorney, David Coombs, presented as evidence a video which had appeared on Wikileaks showing two Apache helicopter pilots shooting dead alleged terrorists on the streets of Baghdad.
It was later revealed that two of those killed were a Reuters cameraman and his driver, with Coombs claiming that US Army actions such as these drove Manning to leak the classified information.
After his arrest on 29 May 2010, Manning was transferred to a US Marine brig in Quantico, Virginia, where he was reportedly kept in solitary confinement for 23 hours a day and forced to sleep naked without access to pillows or sheets.
By the time he pleaded guilty in February, 2013, Manning had spent more than 1,000 days in military prison without trial.