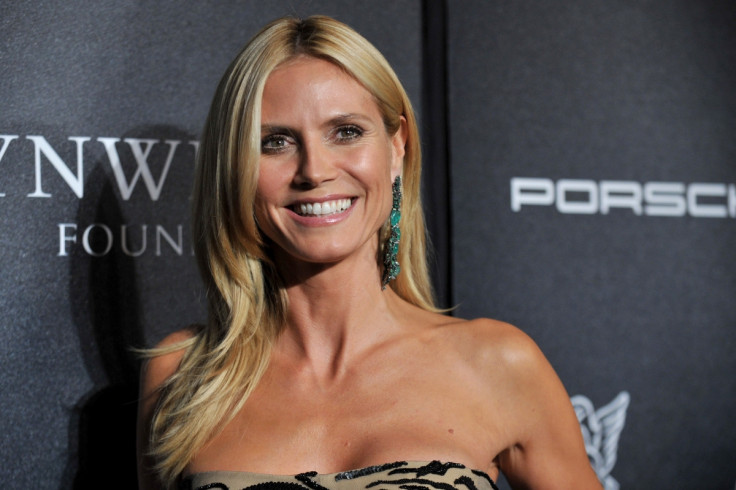 Heidi Klum is at it again. The America's Got Talent judge has sent her fans into another meltdown with a racy photo that shows her baring her supermodel figure.
The former Victoria's Secret model, who calls herself a nudist, took to social media on Saturday (15 July) to share the revealing snap with her fans.
Klum, who is no stranger to mirror selfies, is seen barely covering up her modesty by holding her phone close to her breasts while clicking the image in front of a large mirror.
The photo appears to be taken in what looks like a dressing room as a variety of cosmetic items can be seen spread on the countertop, with numerous outfits – meticulously placed on a rack – clearly visible in the background. Klum has captioned the photo, "Another day at the office."
Fans reacted to the positively to the selfie, praising her for her gorgeous figure. "Heidi...., so hot," a fan commented. Another added, "U never age!"
To maintain a flawless figure like Klum's is no easy task. Just six years shy of turning 50 years old, she revealed the secrets to her fabulous figure in an interview with Glamour magazine in 2014.
"I pretend it's bikini season all year and regularly make healthy decisions. My favorite workout is a long run along the Westside Highway, which stretches along the Hudson River in New York City... It's a beautiful path, and you always feel surrounded by such an amazing community," she said.
"You see the same people running every morning, and they inspire me to keep going. That and knowing there is a Starbucks coffee at the end of the route!
"With my busy schedule, it's impossible to have a set fitness routine. So, instead, I like to try and incorporate exercise into my daily life whenever I can — which requires some creativity.
"Sometimes I jump on the trampoline with my kids or take a hike with my dogs in the canyon by my house. Sometimes I run for 30 minutes on my treadmill, but I prefer to be outdoors.
"When I'm traveling, it could be doing a few sit-ups in my hotel room before I head to work," Klum added.