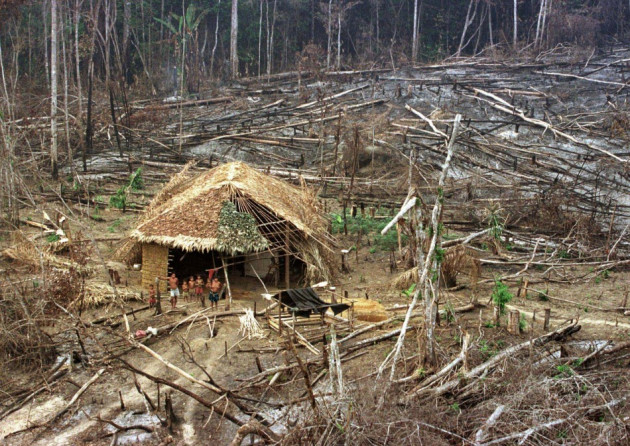 A girl from one of the Amazon's last tribes untainted by modern civilisation has been burned alive by loggers in Brazil as a warning to other indigenous people to leave their land, a missionary group has claimed.
The eight-year-old girl was captured after wandering from her village and was tied to a tree and set alight by loggers, according to reports. The victim was from the Gwaja-Awa tribe of about 60 people who live in secluded, primitive conditions isolated from the modern world.
The killing was reported to have taken place in autumn 2011. The Indigenous Missionary Council, a Catholic group which works to protect tribal people, said it had seen footage of her charred remains.
"We are seeking more information before we pass the case on to the federal police. But according to the evidence we already possess, a child has been burned alive by loggers who were illegally trespassing on a [tribal] reserve," a spokesperson told TNT magazine.
Luis Carlos Guajajaras, a local leader from a separate tribe, told the Brazilian news website Terra that members of his community had witnessed the murder.
"She was from another tribe - they live deep in the jungle and have no contact with the outside world. It would have been the first time she had ever seen white men. We heard that they laughed as they burned her to death," he said.
A spokesman for Brazil's Indian Affairs Department said the government was urgently investigating the claims.
The Awa people, who live on officially recognised reserves cut off from the modern world, have received a series of threats from loggers over recent months.
Along with cattle ranchers, settlers and mining companies, loggers have been illegally cutting down parts of the Amazon forest at a rapid rate in the hunt for land, iron ore deposits and timber. Despite laws designed to protect the few remaining untainted tribes, more than 30 percent of one of the Awa's indigenous territories has been destroyed by deforestation.
About 450 tribal people were murdered in Brazil between 2003 and 2010, according to figures from the missionary council.