Protesters have gathered outside former Brazilian president Luiz Inacio Lula da Silva's home in Sao Paulo, demonstrating against his detainment for alleged fraud. Brazil's federal police briefly detained the ex-president for questioning on 4 March, in an investigation of a bribery and money laundering scheme, which they said had financed campaigns and expenses of the ruling Workers' Party, claiming to have evidence that Lula received illicit benefits from kickbacks at state oil firm Petroleo Brasileiro SA in the form of payments and luxury real estate.
His detention, which lasted for around three hours, was part of a sweeping investigation that has ensnared powerful lawmakers and business executives, tarnishes the legacy of Brazil's most powerful politician and the tactics that his Workers' Party used to consolidate power since rising to power 13 years ago. Investigators also say they have turned up evidence that Lula received at least 1m reals (£190,000, $270,000) in 2014 from engineering company OAS with no apparent legal justification by way of improvements and expensive furniture for the beachfront penthouse in Guaruja.
Federal prosecutors who ordered the raids said there was evidence that the former president received funds from the graft scheme at state oil giant Petrobras through work on a luxury beachside penthouse and a country home. However, Lula has said the apartment is not his and it belongs to OAS, but prosecutors say doormen, OAS engineers and third-party contractors all said the condo was intended for Lula's family.
"The suspicion is that the improvements and the properties are bribes derived from the illegal gains made by OAS in the Petrobras graft scheme," the prosecutors' statement said.
Prosecutors are also investigating payments to Lula by companies involved in the Petrobras scandal that were claimed to be donations and fees for speaking appearances.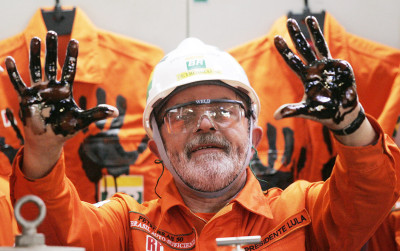 Lula's foundation has since made a statement saying that his detention was "an aggression against the rule of law and Brazilian society". The foundation, which has consistently denied any wrongdoing by Lula, called his arrest "arbitrary, illegal and unjustifiable".
Workers' Party leaders have jumped to the former president's defence, while the labour minister Miguel Rossetto said the detention was "a clear attack on what Lula represents... this is not justice, this is violence," he said in a public statement.
As the founder and figurehead of the Workers' Party, Lula's image has been central to huge street protests over the past year, for and against the impeachment of his successor Dilma Rousseff, and powerful unions have marched repeatedly in his name.
"Lula is a politician who polarizes Brazilian society," said Rafael Cortez, a political analyst at consulting firm Tendencias in Sao Paulo. "Whether he goes to jail or not, the allegations against Lula will mobilize political forces on to the streets."
Investigators said there is further evidence showing that OAS paid about 1.3m reais for transport and storage of "items withdrawn from the Alvorada presidential palace when he left office." Police said they carried out 33 search warrants and 11 arrest warrants in the latest round of the Operation Carwash investigation. Some 200 police and 30 auditors from federal tax office took part.
Brazilian media reported on Thursday (3 March) that ruling party Senator Delcidio Amaral, a major legislative ally for Rousseff before he was arrested in November, allegedly tied the president and Lula to the scandal engulfing Petrobras in a 400-page plea bargain made with prosecutors.