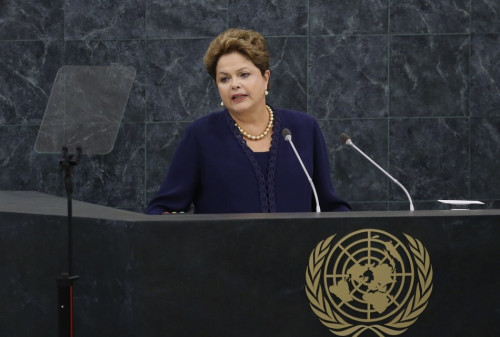 A package of reforms set out by Brazilian president Dilma Rousseff have failed to persuade protesters to stop the wave of demonstrations that have swept the country.
Rousseff pledged to spend 50bn reals (£14.5bn) on urban public transport and initiate a reform of Brazil's political system after holding separate talks with four protest group leaders and governors and the mayors of 26 capital cities in Brasilia.
"I mainly want to repeat that my government is listening to democratic voices. We must learn to hear the voices of the street," Rousseff said. "We all must, without exception, understand these signals with humility and accuracy."
Hours later however, a few thousand demonstrators held rallies in Rio de Janeiro, Brasilia and Sao Paulo. Two women were killed in in the state of Goias, not far from the capital, as they were hit by a car while trying to block a highway during a demonstration, police said.
Rousseff pledged to focus her government action on five compelling issues: fiscal responsibility and controlling inflation; political reform; health care; public transport, and education. As part of the plans, she said a referendum to establish a constitutional assembly to discuss political reform will be called.
However demonstrators pointed out that no concrete plans were actually outlined.
"It's a necessary first step, but not a particularly meaningful nor surprising one," said Irene Loewenstein, a 68-year-old sociologist who protested in Rio.
"Neither Dilma nor any other politician here is capable of even understanding, much less putting into practice, the kind of systematic change the people are demanding. It's just not within their world views."
Protest leader Mayara Longo Vivian, who met with the president, said her Free Fare Movement group will "keep on fighting".
"The people are on the street, the left is on the street, with legitimate agendas," she said. "Only with concrete measures from the state will this situation be reversed."
Protests erupted earlier this month after a hike in public transportation fares was announced in Sao Paulo, Rio de Janeiro and other cities, and has since mushroomed across the country. Local governments in at numerous cities have since agreed to reverse those hikes.
However the reversal wasn't considered sufficient by protesters who are calling for a boycott of next year's World Cup, on which they say the government has spent billions while neglecting social and public services.
"If they have money to build stadiums, they have money for zero tariffs [on public transportation]," said Vivian.
The wave of unrest has seen a million people protesting in more than 100 cities.