Brazilian President Dilma Rousseff accuses vice-president Michel Temer of 'plotting coup'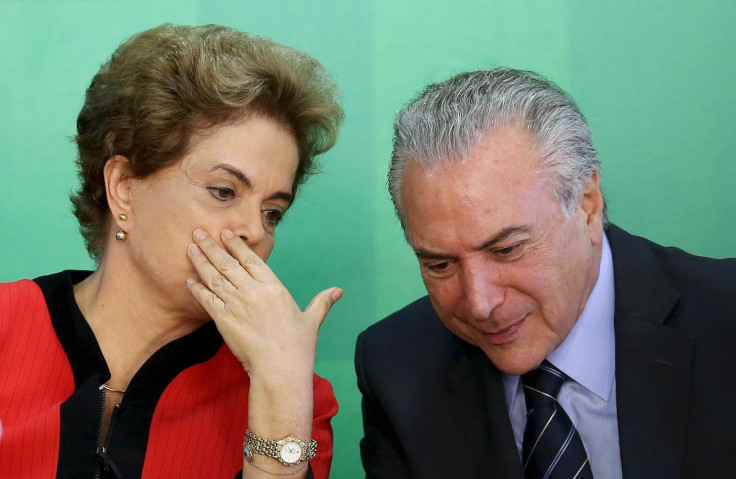 Brazilian President Dilma Rousseff has claimed that her Vice-President Michel Temer is plotting a coup against her as she battles against impeachment. Embattled Rousseff has accused Temer of being a "conspirator" against her.
The 68-year-old has been criticised for allegedly massaging deficit figures ahead of her election campaign two years ago. Rousseff is also blamed for the economic crisis that currently has the nation on its knees and for the Petrobras corruption scandal involving the state-controlled oil company that is also engulfing her predecessor and mentor, Luiz Inacio Lula da Silva.
On 11 April a Brazilian congressional committee voted in favour of impeaching the Belo-Horizonte-born President. The move by the lawmakers has set the stage for a vital vote in the lower house on 17 or 18 April. If two-thirds of the lower house recommends Rousseff's prosecution, the issue will then be taken up by the Senate leading to her trial.
The former economist said an audio message released by Temer, who she did not name, was evidence of the conspiracy against her. In the recording the rival PMDB politician appears to be rehearsing a speech when he accepts the role of President.
"They now are conspiring openly, in the light of day, to destabilise a legitimately elected president," Rousseff said when talking to students and teachers in Brasilia on Tuesday 12 April according to Reuters.
In a perceived reference to Temer and lower house speaker Eduardo Cunha, who is also facing money-laundering charges, she referred to the pair as "the chief and the vice-chief" of the plot. Adding one was guilty of "unimaginable abuses" in the impeachment process and the other "conspirator" was "rubbing his hands in glee while carrying out a farcical leak of an inaugural speech".
"One of the chief conspirators assumes the condition of president of the republic," Rousseff said. The president said "the mask of the conspirators had fallen".
The recording, Temer says, was released by accident and although he has been preparing in case he has to step into her shoes – he has not planned a coup. "Many people sought me out so that I would give at least preliminary remarks to the Brazilian nation, which I am doing with modesty, caution and moderation," he says on the recording.
© Copyright IBTimes 2023. All rights reserved.