With only months to go before the Olympics in Rio de Janeiro in August, another two top officials central to the Games have quit in a further setback for the government of President Dilma Rousseff.
Sports minister George Hilton quit along with Colonel Adilson Moreira who was in charge of organising the security for the Games, with Moreira reportedly saying he was ashamed of Brazil being led by an "unscrupulous group".
Moreira headed the National Force for Public Security which would guard sporting venues during the Games. Officials were quick to emphasise that security at the events would remain unaffected.
Earlier in the week, the country's biggest party, the Brazilian Democratic Movement Party (PMDB), split from the ruling coalition following the resignation of tourism minister Henrique Eduardo Alves.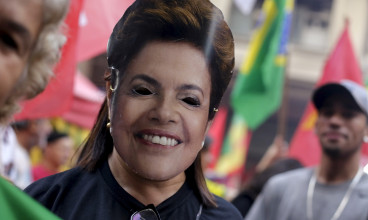 The events have increased pressure on Rousseff's fight against an impeachment process centred on allegations of graft linked to Petrobras, the state-owned oil giant.
The president still has significant support however with tens of thousands of people taking to the streets throughout the country on 31 March to back her with her supporters saying that attempts to remove her from power amount to a coup.
The peaceful demonstrators, many waving the red flags of Rousseff's Workers' Party, gathered in 31 cities, including Brasilia, Rio de Janeiro and Sao Paulo.
The Globo news site quoted police estimates for total turnout at more than 110,000, while organizers claimed nearly 600,000.
Brazil's Congress will vote in May on whether to try to impeach Rousseff over claims she fiddled accounts to hide the country's deficit which allowed her to win an election.
She requires the support of ex-president Luiz Inacio Lula da Silva to head off the charges but he is embroiled in allegations over his ownership of a luxury apartment in Sao Paulo linked to Petrobras.
However, Rousseff's cause received a boost when the Supreme Court ruled on 31 March that da Silva would have his corruption case removed from the remit of federal judge Sergio Moro who is spearheading the probe and is seen to be the biggest thorn in da Silva's side.