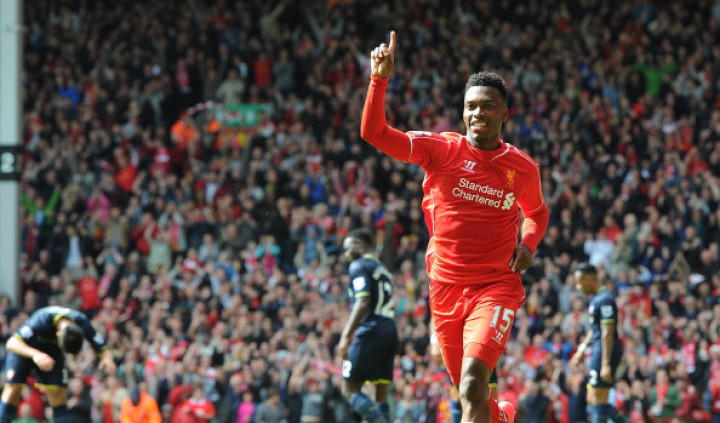 Brendan Rodgers has insisted that Daniel Sturridge will remain the main man at Liverpool, despite the imminent arrival of Mario Balotelli to Anfield.
The Reds are in the process of tying up a deal for the Italian international after reports suggested that he has completed his medical and is set to be confirmed as a Liverpool player on Monday.
The former Swansea boss hopes Sturridge will welcome the arrival of Balotelli and believes that a top player should look forward to playing with other quality players and not feel threatened by their arrival at the club.
"The dynamics between players are important. But I don't worry because if you are a top player with a top mind, you want other top players," Rodgers said, as quoted in the Mirror.
"If you are worried about what someone else can come in and do then... If you are a top player and you are looking at another top player coming in, you will be thinking, 'he can help us.'"
"If you are a top player with a top mentality, you respond to the competition," the Anfield boss continued.
The Northern Irishman also feels that he needs to have quality replacements incase of injuries to his main striker.
"I also need flexibility and also if you look at Daniel's injury record, he has missed a number of weeks through being injured. I need to ensure I've got the replacements if they are not on the pitch at the same time."
Rodgers confirmed that he has spoken to the English striker regarding his importance to the team and believes that the striker is happy with the club and his game at the moment and he is very clear about Sturridge being a big player for the club, not only in the present but also in the future.
"I've spoken to Daniel and just said about how important he is to the team," Rodgers added.
"The confidence I have in him has been shown in his performances and goals - 36 in 50. You are not doing that if you're not happy, happy with life and happy with your football."
"I have said repeatedly that Daniel is a top talent, but we need to have more than one top talent in here. But he is a big player for us and will remain so," the Liverpool boss concluded.