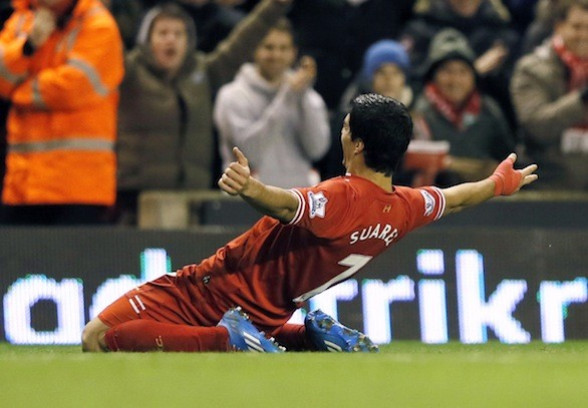 Brendan Rodgers believes that Luis Suarez is now happy at Liverpool and is showing that in his performances as the striker scored four goals to steer Liverpool to a 5-1 win over Norwich.
Suarez has been on fire since returning from his suspension for the Reds this season and currently sits as top scorer in the Premier League with 13 goals so far this season.
The Uruguay international's performance against Norwich, in which he has now scored three hat-tricks against the side in a row, was a sign of how happy he is at the club after a summer of discontent.
Rodgers told reporters after the game: "You can't ask any more, he's certainly earned his money and just a pleasure to work with.
"I think you see his happiness, he's really happy in his football and the whole club just is a hand-in-glove fit for him."
The Liverpool manager went so far as to compare Suarez with Lionel Messi and Cristiano Ronaldo, who are currently fighting it out for the Ballon d'Or after brilliant performances for Barcelona and Real Madrid respectively over the last 12 months.
"I've not seen many individual displays better than that," he explained. "It was sheer brilliance. I always like to talk about the team but tonight you've got to hold up Luis as one of the best strikers in the world.
"With the modern-day, world-class operators - the Ronaldos, Bales and Messis - it's about the numbers and what they produce. It's not one and twos, but twos and threes.
"It was a pleasure to watch that. He is up there with Ronaldo and Messi. The quality of his finishing is just at an incredible level.
"He is the happiest he has been here, this club suits him, and I think his best years will be here. I actually felt for the Norwich players because to come up against a world-class player like that is really, really difficult."