Brent crude oil traded over $67 a barrel on 5 May, hitting a fresh 2015 high, after protesters shut down the eastern Libyan oil port of Zueitina, hitting exports.
Brent crude was trading 1.50% higher to $67.45 a barrel at 01.21pm BST, beating its previous 2015 high of $67.10 struck on 4 May.
US crude was trading 1.93% higher to $60.07 a barrel, beating its previous 2015 high of $59.90 struck on 1 May.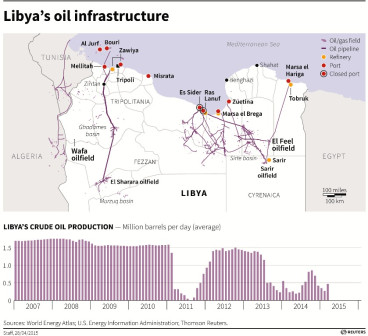 Zueitina was one of the few Libyan ports still exporting oil.
Many others have closed owing to fighting or disruptions at oilfields since the ousting of former dictator Muammar Gaddafi.
Libyan oil output is now less than 500,000 barrels per day (bpd), Reuters reported, a third of what Libya pumped before 2010.
A strong US dollar also weighed on oil, making the commodity more expensive for holders of other currencies.
Meanwhile, civil war in Yemen has also supported oil prices. Traders fear the risk of supply disruptions from the nation's northern neighbour and top oil exporter Saudi Arabia, or from the other Middle East Gulf producers.
Bullish Allah comments
Earlier in the day, Saudi Arabia's oil minister Ali Al-Naimi said that only Allah knows where prices are heading.
Ali Al-Naimi, told CNBC on 5 May that "no one can set the price of oil - it's up to Allah."
His remark came amid widespread speculation over how long the Opec member will stick to its decision not to cut production, a move that could prop up prices.
Al-Naimi added that he was "not worried at all" about the prospect of Iranian crude coming back into the market if sanctions on Iran were lifted as part of an international nuclear deal. Iranian crude supplies could drive prices lower as it will add to the global supply glut.
Last week, Societe Generale raised its 2015 average Brent crude forecast to $59.54 a barrel and its WTI forecast to $53.62.
Brent prices fell to six-year lows in January 2015, dragged down by over-supply and the lack of demand the world over.
The global benchmark traded at a high of $114 a barrel last June.