Approximately 40 European Union directives could be imposed on Britain in the two-year transition period post-Brexit, according to a leaked Whitehall report.
The document, which was obtained by the Telegraph, shows the UK could have to follow a number of EU laws, underlining it could be powerless to prevent Brussels from enforcing them. One of the most contentious directives would allow the EU to force "clearing houses" to move away from the City and relocate to the continent.
The British capital is the bloc's financial centre and currently processes approximately 75% of euro clearing transaction, worth a combined €1tn (£880bn) a day in an industry that employs thousands of people.
Euro clearing is a crucial part of the financial sector as it guarantees the flow of money around the world. Clearing houses are the intermediaries of a transaction of financial contracts tied to the underlying value of a share, bond, currency or index.
In April last year, European Commission vice-president Valdis Dombrovskis said Brussels has drawn up plans to move the operations to the EU.
The directive is considered "highly likely" to be implemented during the transitional period, as is a law that would require Britain to increase its recycling rate to 70% from the current 44%. Whitehall, however, has previously warned it does not consider the target feasible.
In total, the report contains 37 directives, five of which have a "high likelihood of materialising" and will carry a "high risk", while nine are highly likely to be implemented and carry a medium risk.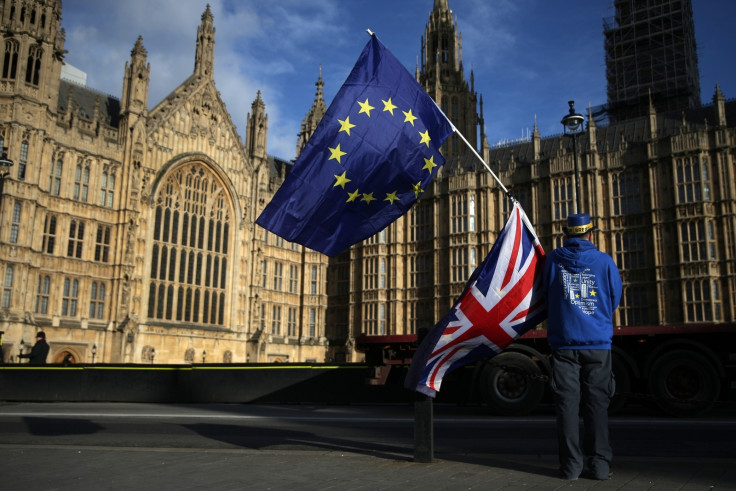 "An implementation period is vital to avoiding a cliff-edge for people and businesses and giving clarity and certainty as we leave the European Union," a Government source was quoted as saying.
"As the Secretary of State for Exiting the European Union has said, given the way the EU works, virtually all of the major laws that will be introduced during the time-limited implementation period are being negotiated now, while we are in the room."
The leaked document is likely to exacerbated a split in Theresa May's government, which has placed hard-line Brexiteers and pro-European MPs at loggerheads over the last couple of months.
Earlier this week, it emerged a so-called Brexit "war cabinet" would try to iron out differences within the Conservative Party over how the UK will leave the EU.
The decision comes as the government ruled out for the first time Britain being involved in a customs union post-Brexit, despite the prime minister not committing to such a position as recently as Friday (2 February).
This appeared to be at odds with Amber Rudd, the home secretary, who hinted at the possibility of maintaining customs ties with the EU.
The Times reported that the Tories could come to a compromise if Brexiteers like foreign secretary Boris Johnson and environment secretary Michael Gove agreed to a limited extension to the current customs union, which allows companies in the EU to trade goods without tariffs.