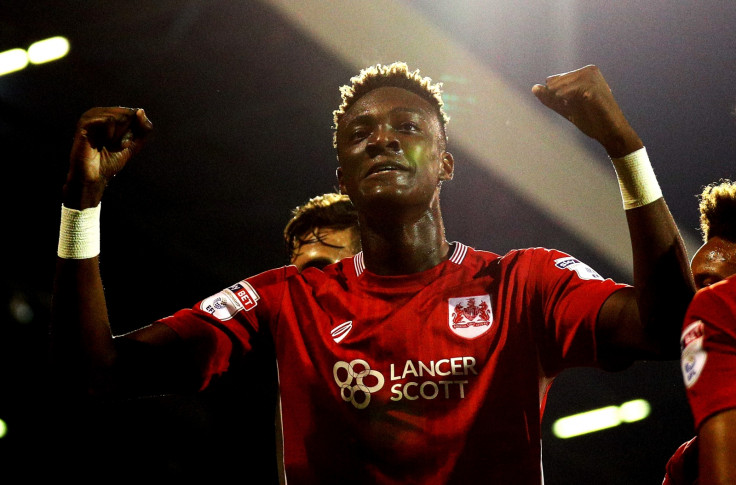 Bristol City's first-team coach John Pemberton sees parallels between on-loan Chelsea striker Tammy Abraham and former Arsenal hero Ian Wright. The 18-year-old centre-forward scored his tenth goal of the campaign during City's 4-0 win at Fulham on Saturday (24 September) and Pemberton has admitted Abraham reminds him of the one-time England international.
Pemberton, 51, played with Wright while at Crystal Palace and thinks the highly-rated Abraham has a similar thirst for goals. The youngster has been a regular on the scoresheet since joining City on loan and is considered to be among the brightest prospects at Stamford Bridge.
"Tammy is very much like Ian Wright with regard to being in the right place at the right time," Pemberton told the BBC about the on-loan Chelsea youngster. "Ian Wright could create something out of nothing and Tammy is the same with regards to goal-scoring.
"He's frightening and he just has this knack of getting there when you think he can't do it, and that is something Wrighty had as well."
Abraham replaced Jonathan Kodjia, who joined Aston Villa for an initial £11m ($14.2m), at Ashton Gate over the summer. Pemberton has praised the Chelsea youngster for being so open-minded while on loan in the Championship.
"He is like a sponge, he wants to take everything on board," he said. "Losing Kodjia has not hurt us as much as we thought it may do and at the moment we feel we might have the better deal."
Meanwhile, Abraham recently admitted he is benefiting from playing regular first-team football in a competitive league, rather than being restricted to reserve football at Chelsea.
"Playing against players older and stronger, I have to adapt my game, knowing when to go, when to hold my run and following up loose balls," the Chelsea youngster told The Times. "It's more physical here. I have to use my brains."