The Brit Awards had a political edge when Stormzy launched into Theresa May's handling of the Grenfell Tower fire and Damon Albarn criticised Brexit.
The south London grime star beat Ed Sheeran to the main prizes, including best British male and best British album for Gang Signs and Prayer.
But during a freestyle between songs, he rapped: ""Yo, Theresa May, where's that money for Grenfell? What, you thought we just forgot about Grenfell?"
His album Gang Signs and Prayer made history when it become the UK's first grime album to reach number one.
In his acceptance speech at London's O2 centre, he said: "I've never worked on something like this in my life. We made something I feel that is undeniable, that I can stand by today."
Dua Lipa took the awards for breakthrough and best British female and brought her younger brother and sister on stage.
In her speech, she said: "I want to thank every single female who's been on this stage before me that has given girls like me, not just girls in the music industry but girls in society, a place to be inspired be, to look up to, and that have allowed us to dream this big."
"Here's to more women on these stages, more women winning awards and more women taking over the world."
Many artists at the show wore white roses or rose badges on the red carpet to back the Time's Up and Me Too movements.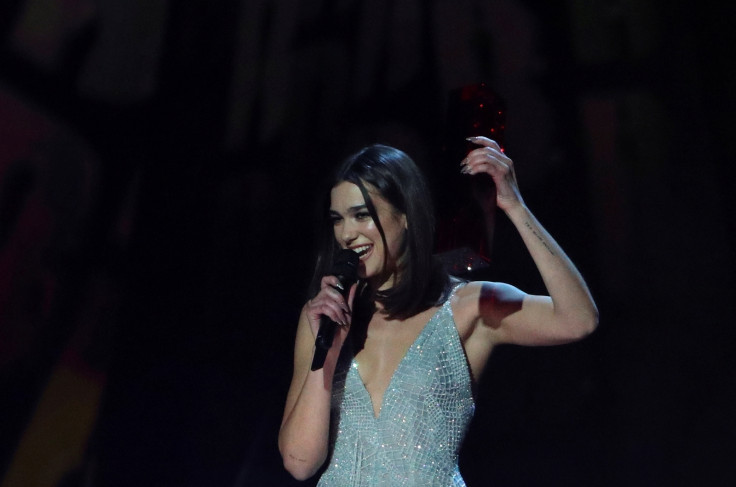 Liam Gallagher performed a stripped back version of the Oasis song Live Forever in memory of those who died in the Manchester Arena attack in May.
Gorillaz were named best British group and their leader Damon Albarn was not afraid to speak his mind.
"This country is, believe it or not, quite a small, little thing, right, but it's a lovely place and it's part of a beautiful world. But what I want to say is, don't let it become isolated, don't let yourselves become cut off.
"Considering our size we do incredible things in music, we've got a real spirit and a real soul and don't let politics get in the way," the BBC reported.