The despair Ian Hastings felt seeking help for depression culminated in a suicide attempt.
"I didn't know where to turn," recalls the former construction director, who was diagnosed with chronic depression in 2009. "There was nowhere I could go."
Hastings is among thousands of men who have suffered in silence because of the stigma men's health advocates say is attached to seeking help for mental illness. Indeed, new figures show the proportion of men killing themselves in the UK has reached its highest level since 2001.
Office for National Statistics (ONS) data just published shows 78% of all suicides in 2013 were committed by men.
The figures also reveal:
19 in every 100,000 deaths in men a result of suicide
There were 6,233 suicides in men and women older than 15 in 2013, 4% higher than the previous year.

The highest UK suicide rate in 2013 by broad age group was among men aged 45 to 59, at 25.1 deaths per 100,000, the highest for that age group since 1981.
"Since 2007, the female rate stayed relatively constant while the male rate increased significantly," states the ONS report, which notes that overall suicide rates had been falling consistently from 15.6 per 100,000 deaths in 1981 to 10.6 per 100,000 in 2007.
"The recent recession in the UK could be an influencing factor in the increase in suicides."
Men's Health Forum external affairs manager Colin Penning said the large increase in suicide in middle-aged men, mainly attributed to the recession, shows no male age group was immune.
The Forum and fellow men's advocacy group the Movember Foundation warn the next generation of men are at risk unless health providers do more to encourage men to seek help, particularly on their mental wellbeing, because of the stigma associated with it.
Penning said Personal, Social, Health and Economic (PHSE) education needed to do more in schools to break the cycle and address mental health stigma because males will not address such issues.
Early detection key
Movember Foundation country director UK Sarah Coghlan said early detection was the key to better health outcomes for men.
"Men in their 40s are probably the most unhappy group in the UK now and that help-seeking behaviour is a big part of this, so services are not designed predominantly with men in mind," Coghlan said.
Hastings believes the "feminised" medical environments of medical practices only compounded his illness, so he established Muted in 2013 to provide support and information to men and reduce stigma around depression.
A Movember Foundation survey found 28% of men opted to turn to the internet for information over friends, family and their GP.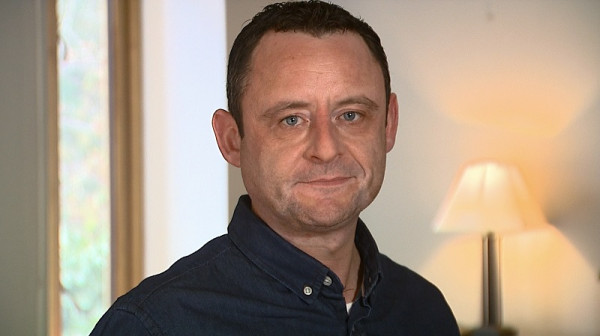 Hastings recalls feeling intimidated when he visited GPs' surgeries and seeing posters of women and women's magazines in the waiting rooms.
"I felt belittled," he said. "It's not a manly environment to be in."
Professor Steve Robertson, the co-director of the Centre for Men's Health at with Leeds Beckett University says the health profession is feminised by factors including female images and language use, with men responding better to male-sensitive language like 'coaching', rather than 'therapy'.
"Being male-sensitive is absolutely key," said Beckett, who has just submitted a report commissioned by the Movember Foundation examining how Britain's medical practices are addressing gender disparity in mental health through prevention, early intervention, support and stigma reduction.
Robertson said his findings would prove useful for health professionals.
"If you can distil out what are the core elements with engaging men, that's a good start," he says.
"There is a much bigger cultural shift that's needed."
Penning says the only solution is a national policy on men's health, which already exists in Ireland. Men's Health Forum is calling for Britain to follow suit and launch its own national action plan to tackle gender disparity in medical services and help men get help for illnesses, particularly those concerning their mental health.
Ireland is currently assessing the success of its own policy, which has seen the country implement more workforce training, increase the provision of men's community health services and establish workplace-based men's health promotions.
"The early signs are that it made the difference," Penning said.
"It focused people's minds, it generated more action and sometimes without that large-scale statement of national intent, things keep falling through the gaps.
"The only solution is for there to be a national policy that tackles elements, rather than just picking off one or two issues, which time and time again we're seeing just hasn't worked."
Rebecca Falconer is a British-Australian journalist with more than a decade of experience writing and editing for international news outlets including News Corporation, The Guardian and Al Jazeera. She is currently based in Barcelona.