Britain's Chief Rabbi has launched a withering attack on the Labour Party calling on its leader Jeremy Corbyn to take "decisive action" to deal with its "severe" problem with anti-Semitism.
Ephraim Mirvis also had harsh words for Corbyn's allies, both Diane Abbott who described anti-Semitism allegations as a "smear" as well as Unite union chief Len McCluskey who said the issue was being exploited by Corbyn's enemies.
Mirvis wrote in The Telegraph that he was disheartened that anti-Semitism in the party has been dismissed as "mood music" being used for political ends.
"The worst of mistakes, in trying to address this problem, would be to treat it as a political attack which requires a political solution," he said.
In his first intervention in the debate, the Chief Rabbi also delivered a tough response to the furore surrounding former London mayor Ken Livingstone who was suspended after saying Adolf Hitler had supported Zionism in the 1930s.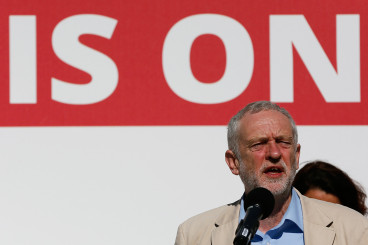 Mirvis said: "Zionism is a movement celebrated by people right across the political spectrum, all over the world, and requires no endorsement or otherwise of the particular policies of any Israeli Government at any time.
"But to those people who have nevertheless sought to redefine Zionism, who vilify and delegitimize it, be under no illusions - you are deeply insulting not only the Jewish community but countless others who instinctively reject the politics of distortion and demonisation."
Meanwhile, ahead of elections throughout the UK on Thursday 5 May in which Labour is predicted to lose a number of council seats, pollsters warned that any attempt to unseat Corbyn as leader would fail, however badly the party did.
Some within the party would consider success to be any improvement in Labour's position compared with the 2015 General Election while other Labour MPs say anything less than gaining 450 seats would be a failure.
Analysis from the respected election expert John Curtice of Strathclyde University shows Labour is likely to lose around 200 seats. Even so, Joe Twyman from YouGov, said it would be unwise for a coup to be mounted against Corbyn as he was well ahead of other potential candidates for the party leadership.
He told The Guardian: "The bottom line is that those eligible to vote in the Labour party leadership election strongly supported Jeremy Corbyn last year and that has not significantly changed."
Corbyn is also being helped by the grassroots movement Momentum which will go into overdrive to fight off any challenge.