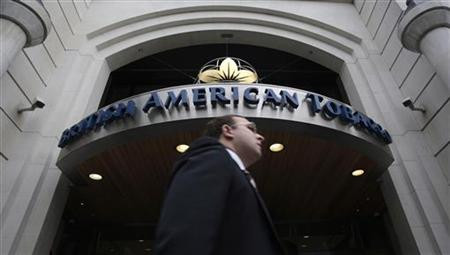 Shares in British American Tobacco were broadly flat on the FTSE 100 in morning trading after the company reported a rise in profit of 14 per cent in the half year ended 30 June.
Revenue was reported as being up eight per cent to nearly £7.3 billion, while adjusted profit from operations increased 14 per cent to £2.46 billion.
The group said it would be raising its interim dividend by 19 per cent to 33.2 pence per share.
Group volumes were in line with the previous year at 348 billion, while market share in the company's top 40 markets rose, however on an organic basis volumes fell three per cent thanks to market declines in Romania, Turkey, Japan and Pakistan.
British American Tobacco said its four Global Drive Brands saw good overall volume growth of six per cent. Volumes of Dunhill were up 21 per cent, Lucky Strike volumes increase one per cent, Pall Mall was up seven per cent, while Kent volumes dropped four per cent.
Richard Burrows, Chairman of British American Tobacco, said, "These results show that British American Tobacco's business is in very good shape, with continued pricing momentum, increasing market share in key markets and improving organic volume trends. While the comparisons with 2009 will become tougher in the second half, shareholders should see another year of good growth in both earnings and dividends."
By 11:20 shares in British American Tobacco were up 0.02 per cent on the FTSE 100 to 2,260.00 pence per share.