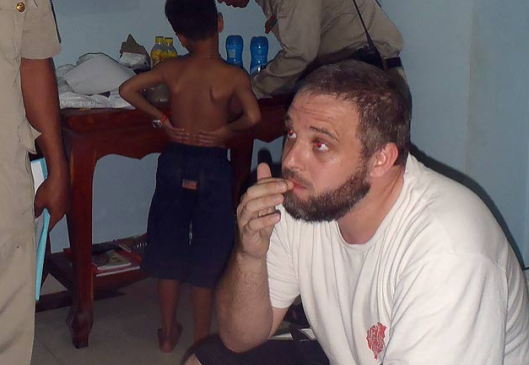 A British paedophile has been allowed to operate in Malaysia and Cambodia on a passport that should never have been issued to him and which UK officials failed to seize after he served time in jail.
Richard Fruin, 36, was jailed last week for two years in Cambodia for abusing three children in the deprived country. After the sentence he will be deported to the UK.
However, he was only able to enter Cambodia thanks to a passport issued to him by officials at the British High Commission in Malaysia.
Fruin first skipped bail back in 2005 after indecent images were found on his computer at his home in Stroud. Gloucester. He was deported from Malaysia in May 2012 and jailed for a year.
But he was allowed to keep his passport after his release and used it to head to Cambodia despite being on the Sex Offenders Register which ­required him to tell police of his travel plans.
A spokesman for Her Majesty's Passport Office said: "We rely on law enforcement ­agencies to advise us of any ­information that would prevent an individual being entitled to a ­passport."
Fruin was captured in the capital city of Phnom Penh last October by police who raided his room at Boeung Meas Guesthouse.
He was caught there with an eight-year-old boy and it emerged he had also abused the youngster's 10 and 11-year-old brothers.
An organisation dedicated to stopping child abuse said Fruin had been investigated for a month prior to his arrest.
"He had a history of abuse and the police also found many more possible victims," said Khoem Vando, director of Action Pour Les Enfants.
Cambodia is a popular destination for paedophiles: it was where disgraced pop star Gary Glitter fled after being caught with a stash of child abuse images on his computer.
Fruin's victim's mother told the Cambodia Daily: "If police had not taken any action last night, I don't know what he would have done to my son. I had no idea that he intended to hurt my children."