British Petroleum Plc expects to divest assets of $38 billion by the end of 2013, of which divestment of assets worth $23 billion (approx.) has already been announced by the group including the latest being the sale of southern gas assets (SGA) in the UK North Sea to Perenco UK Ltd for $400 million in cash.
The divestment announcements are part of the group's decision to actively manage its business portfolios around the world, focusing on core activities and future growth. BP is scheduled to announce its first quarter results and divided on Tuesday, May 1, 2012.
The oil and gas company is meeting its commitments and moving forward with increasing momentum. According to the group, 2012 will be a year of milestone delivery with financial momentum building in 2013 and 2014.

Going forward, the British oil company expects high margin production coming back on stream, major project start-ups and new exploration wells, further progress on its divestment programme, continued improvement in downstream financial performance and completion of payments into the Deepwater Horizon Oil Spill Trust fund.
"In 2012 we must execute our 10-point plan and continue to meet our commitments in the Gulf of Mexico. While many of the investigations into the causes of the accident have been completed, we still face major litigation in the US during 2012. This must run its course, although we are pleased with the continuing progress that we are making with settling some of these claims," said Chairman Carl-Henric Svanberg while commenting on plans and progress.
For the full year ended December 31, 2011, the group reported revenues of $375,517 million compared with $297,107 million a year ago. Net profit for the year stood at $26,097 million compared with previous year loss of $3,324 million, basic earnings per share were recorded at 135.93 cents.
Last month, Standard & Poor's Ratings Services said its ratings and outlook on BP (A/Stable/A-1) are unchanged following the announced provisional settlement of an estimated $7.8 billion to meet economic and medical claims arising from the Macondo well oil spill in the Gulf of Mexico.
As part of its strategic role, the board must be attentive of the long-term developments in its industry. A report prepared by the group 'BP Energy Outlook 2030', reveals that rising populations, increasing levels of life expectancy and improving standards of living will continue to generate growing demand for energy.
The board expects these dynamics to provide BP with opportunities for decades to come. The report projects that fossil fuels will be providing around 80 percent of the world's energy in 2030. This will require companies such as BP to overcome substantial technical and physical challenges.
Lower carbon resources and energy efficiency technologies are required to play their part in addressing both demand and emissions. BP must understand and adapt to these changes in order to remain sustainable in this changing world.
Below is a summary of sector comparisons in terms of price earnings, earnings per share, dividend per share, dividend yields, return on equity and price-to-book ratio. The table explains how the company is performing against its peers/competitors in the sector. The table below represents top ten companies based on market capitalisation.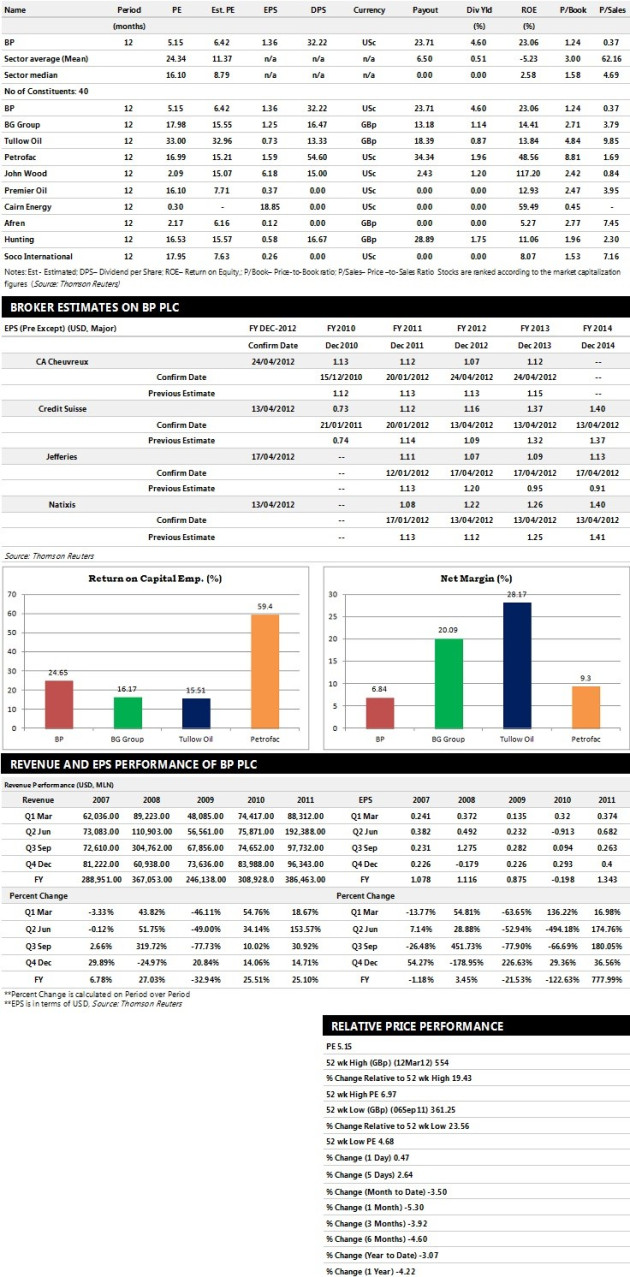 Brokers' Views:

- CA Cheuvreux assigns 'Outperform' rating
- Credit Suisse assigns 'Outperform' rating
- Natixis recommends 'Hold' rating
- Jefferies gives 'Buy' rating
Earnings Outlook:
- CA Cheuvreux estimates the company to report revenues of $415,940 million and $381,917 million for the FY 2012 and FY 2013 respectively with EBIT of $32,446 million and $33,359 million. Earnings per share are projected at $1.07 for FY 2012 and $1.12 for FY 2013.
- Natixis projects the company to record revenues of $395,653.22 million for the FY 2012 and $377,133.29 million for the FY 2013 with EBIT of $28,067.91 million and $29,913.89 million respectively. Profit per share is estimated at $1.22 and $1.26 for the same periods.
- Credit Suisse expects BP to earn EBIT of $35,399 million for the FY 2012 and $41,529 million for the FY 2013 with pre-tax profits of $34,229 million and $40,427 million respectively. EPS is projected at $1.16 for FY 2012 and $1.37 for FY 2013.