Johnson Beharry, a decorated war hero who served with the British Army in Iraq, has spoken of his "humiliating" experience after being detained at a US airport in the wake of US President Donald Trump's travel ban. Beharry, who was born in Grenada, said he believed the detention was because of his appearance, as well as previous travel to Iraq.
Beharry had flown into JFK Airport in New York on 27 January, shortly after the new president announced travel restrictions for nationals of seven, predominantly Muslim, countries, including Iraq.
Thanks to long queues at border control, Beharry eventually missed the veteran's event he had been due to attend and said he was forced to wait for almost three hours while he was scrutinised by officials.
Speaking to the Sun on Sunday, Beharry said: "I felt humiliated. I think they held me because my passport showed I had been to Iraq.
"Maybe I am a bit Asian-looking, but that doesn't mean I should be treated with the same suspicion as a terrorist," he said. "I explained that I had been in Iraq fighting for the British Army but they didn't seem to care. The officials only let me in after I kicked up a fuss. It was the worst travel experience of my life."
Beharry added that the experience made him feel like a "second-rate citizen" and vowed not to return on the basis of his treatment.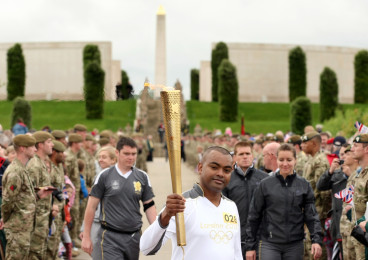 Beharry moved to the UK in 1999, and has served with the British Armed forces in Kosovo as well as Northern Ireland. He was awarded the Victoria Cross for bravery in 2005 after saving the lives of colleagues while under enemy fire. Beharry sustained serious head injuries in the attack.
While at JFK, Beharry he said he saw a number of "Middle Eastern-looking passengers" receiving similar treatment. Similar claims have been made across social media and in news reports.
Last week the New York Times reported that two Iraqi refugees – one of whom had worked on behalf of the US government in Iraq for 10 years – were also detained in New York. On the same day, White House Press Secretary Sean Spicer defended the detention of a five-year-old boy who could have posed "a threat to America".
A BBC World Service journalist, Ali Hamedani, also described how he was detained in Chicago.
A British citizen born in Iran, Hamedani told BBC 5 live: "They took away my phone and started searching my Twitter account looking to find out my political views."