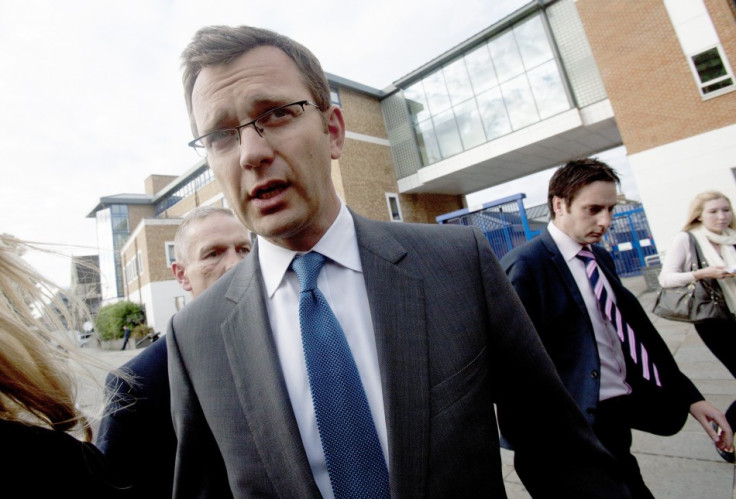 Rebekah Brooks and Andy Coulson had been tipped off as to the extent of phone hacking at News International in 2006, the Leveson inquiry heard.
An email read during the inquiry into press ethics appears to punch holes through the News International claims that hacking was carried out by a single rogue reporter - an argument they continued to use until 2011.
The inquiry heard an email written by News International lawyer Tom Crone to then News of the World editor Coulson
It states that an unnamed police source told Brooks that there were between 100 and 110 victims of phone hacking and that records had been found suggesting payments of more than £1m to private investigator Glenn Mulcaire by News International.
The email, sent on 15 September, 2006, said: "Andy, here's [what] Rebekah told me about info relayed to her by cops."
After laying out the details of police discoveries in raids of Mulcaire's home during the investigation of phone hacking in the royal household, the email claimed that they were confident "they can then charge Glenn Mulcaire in relation to those victims".
"They are keen that the charges should demonstrate the scale of Glenn Mulcaire's activities, so they would feature victims from different areas of public life, politics, showbiz, etc."
Earlier, the Met's head of phone hacking investigation, detective assistant commissioner Sue Akers, said that the investigation into the Sun was "nearer to the start line than the finishing line", pointing to "a culture of illegal payments".
Former acting assistant Met commissioner and Liberal Democrat London mayoral candidate Brian Paddick also gave evidence to the inquiry.
Paddick admitted having "good relations" with a number of crime reporters in his time as a police officer, but claimed there was a need to "draw a line" when it came to police payments.
"I do not accept that if the story is in the public interest you can pay a public servant for it," he said.
"It is the acid test if a public official is prepared to put their job on the line for no reward to make something public."
Paddick called for a "resetting" of the rules of the relationship between the public and press, arguing that relationships should be "on the basis of formal meetings, not on the basis of gossiping over dinner or booze".
He said he had lunch with staff from the Guardian and the Daily Mirror, describing the latter as "more of an audience with Piers Morgan".
In his witness statement, he said he made an entry in the gifts and hospitality register in his office on each occasion.
"Otherwise, I received no hospitality from any other journalists that I can recall. I never received any gifts or payments from anyone in the media during my time as a police officer," he said.
A statement issued by Rupert Murdoch during the inquiry said: "As I've made very clear, we have vowed to do everything we can to get to the bottom of prior wrongdoings in order to set us on the right path for the future.
"That process is well underway. The practices Sue Akers described at the Leveson inquiry are ones of the past and no longer exist at the Sun. We have already emerged a stronger company."