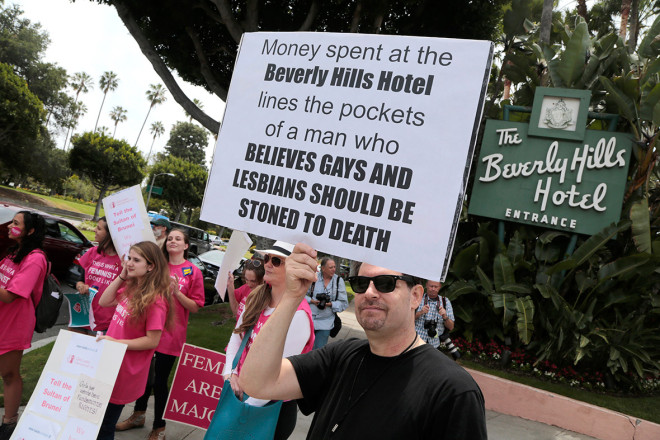 The chief executive of the Dorchester Collection in Beverly Hills has said his hotel is being "unfairly picked on" after a campaign was launched against the chain, which is owned by the Sultan of Brunei.
LGBT supporters led campaigns for people to boycott Hassanal Bolkiah's hotels after he implemented Sharia law in Brunei.
According to the new harsh penal code, rape, adultery, homosexual offences and blasphemy are punishable with death by stoning. Other punishments include amputations and flogging.
CEO Christopher Cowdray told CBS News that: "Beverly Hills Hotel has done absolutely nothing wrong. I feel totally unfairly picked on."
When asked to express his opinion about the implementation of new penal code, Cowdray said he did not have one.
"I am not prepared to comment on that."
Cowdray has also said in a public statement that other American companies are funded by foreign investment "including sovereign wealth funds. There are other hotel companies in this city that are owned by Saudi Arabia... you know, your shirt probably comes from a country which has human rights issues."
American celebrities such as Jay Leno, Ellen DeGeneres and Sharon Osbourne, have all joined the boycott to protest against the laws.
Virgin Group founder Richard Branson tweeted that his employees and family would not stay at the luxury hotel chain "until the Sultan abides by basic human rights". Meanwhile the Motion Picture & Television Fund announced it will no longer hold its annual Night Before the Oscar party at the hotel.
"We cannot condone or tolerate these harsh and repressive laws, and as a result support a business owned by the Sultan of Brunei or a Brunei sovereign fund associated with the government of Brunei,' the Fund's directors said in a statement.
English comedian and activist Stephen Fry has cancelled his reservations with the Dorchester hotel in London and the Coworth Park Hotel in Ascot.