Jean-Claude Junker, the president of the European Commission, has ruled out any treaty negotiations on Britain's relationship with Europe until two years after an in/out referendum promised by David Cameron.
In an interview with The Times, EU officials said: "No treaty change proposals are envisaged until after November 2019, the end of Mr Juncker's mandate as president of the commission."
Cameron tried to block Juncker from taking the top Brussels post last summer. He has promised would "reclaim powers from Brussels", and the 2015 Conservative party election manifesto says it will hold "an in/out referendum on Britain's membership of the EU before the end of 2017".
The prime minister, launching the manifesto, told voters that Britain was "on the brink of something special" as he launched the manifesto. Thirty hours of free childcare was added to giveaways for "every stage of life" in the Tory electoral offer.
And in a direct call to voters who had defected to the United Kingdom Independence Party (Ukip), he said that they had no choice but to vote Conservative if they wanted to avoid the "horror" of a Labour government propped up by the Scottish National Party.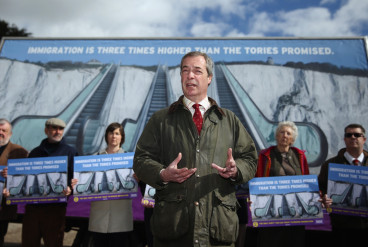 However, Ukip leader Nigel Farage accused the Conservatives of publishing a "work of fiction" manifesto because treaty change is "not on offer".
"I challenge David Cameron to tell the British people this simple truth rather than dupe, delude and deceive them," he said.
On the EU, the Conservative manifesto says: "We want national parliaments to be able to work together to block unwanted European legislation. And we want an end to our commitment to 'ever closer union' as enshrined in the treaty to which every country has to sign up."