As temperatures plummet across swathes of North America, reports have emerged of careless owners leaving their dogs outside to freeze to death in the bitter cold.
In response, local authorities and animal charities have issued warnings to pet owners in an attempt to avoid further deaths.
A number of incidents occurred in Toledo, Ohio, where a dog was found frozen to death on a front porch last week, according to the Washington Post.
Meanwhile, a woman has been charged with animal cruelty in Hartford, Connecticut, for leaving her dog to die, chained to a small shelter. Elsewhere, authorities in Butler County, near Cincinnati, charged the owners of a deceased dog with cruelty to a companion animal.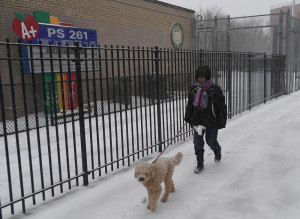 "The dog was found in an outside dog house with no insulation," said the office of county sheriff Richard K. Jones, in a Facebook post. "The dog was frozen to death due to the severe cold weather. Sheriff Jones would like to remind everyone that freezing to death is a horrible way for an animal to die."
Detroit Dog Rescue reported the death of a Pomeranian crossbreed that had been left outside its offices on Monday night (1 January), while also saying they had managed to rescue another dog found shivering in a barrel. It had suffered severe frostbite by the time it was found.
"Trying to escape the frigid temperatures he curled up and crouched down, but even his underbelly and penis began to freeze," Detroit Dog Rescue said in a Facebook post. "His feet are so painful he doesn't want to stand."
Animal protection groups are urging people to report any animals left outside, as forecasters predict the brutally cold weather to continue for several more days.
"Dogs, cats and horses depend on our care, especially during life-threatening cold snaps," said Wayne Pacelle, president of the Humane Society of the United States. "Take the animals in, or somehow provide a safe environment for them."