Always wanted an iPhone but couldn't afford one? Well Apple could be about to answer your prayers with the release of the budget iPhone 5C.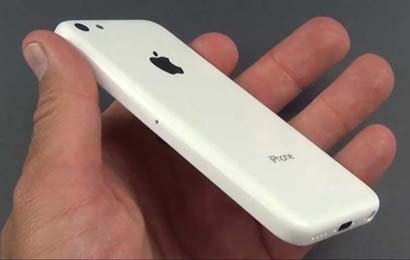 Apple is expected to launch two version of its iPhone simultaneously for the first time at an event on 10 September. The first is expected to be the flagship iPhone 5S, which we discussed last week, but the potentially more interesting model will could be the much-rumoured budget iPhone 5C.
Despite Tim Cook's promise to "double-down" on secrecy, there have been numerous sightings of both models ahead of launch with the iPhone 5C expected to have a plastic case and come in a range of colours.
The phone is also expected to come with a lot of the hardware seen in the current iPhone 5 model, including the 8 megapixel camera sensor and A6 chip. It is also likely to have the same 4in Retina display as the iPhone 5.
This week however we have seen some more speculation surrounding the price of the phone, an absence of Siri and we've even seen it captured on camera.
iPhone 5C Price
Until now most analysis had focused on the iPhone 5C entering the market as Apple's lowest priced iPhone. However when you consider it already has the iPhone 4 on sale for £319 in the UK, the 'budget' iPhone 5C would have to cost £250 or below to make an impact.
This was never likely to happen considering the iPhone 5C specs are a lot better than the iPhone 4. It will have a bigger screen, better camera and faster processor though the absence of the premium metal finish could be an issue for some.
Last week we heard respected Apple analyst Ming-Chi Kuo from KGI Securities speak in relation to the iPhone 5S and this week he's back with some thought on Apple's smartphone pricing structure should it launches two new models.
Kuo believes that the iPhone 5C won't be the company's cheapest iPhone but will in fact replace the iPhone 5 by Q4 of this year, as a mid-range device (priced $400-500) with the company continuing to sell the iPhone 4S ($300-400) and iPhone 4 ($200-300) at reduced prices.
This is likely to annoy some who had been hoping to get the larger 4in screen size the iPhone 5C will have but without having to pay £320 for the pleasure.
iPhone 5C 4G
Another consideration when talking about cost is of course the inclusion (or not) of a 4G radio. With 4G becoming much more widely available (in developed markets at least) is would seem crazy not to include it, but if Apple is looking to capture a slice of the emerging markets such as India and China, then including it and thus driving up the price, it would not seem like such a clever move.
EE currently has the only 4G network in the UK, but both O2 and Vodafone are launching their superfast mobile broadband networks next week. The iPhone 5 won't however work on either of these new networks due to the specific 4G chip it uses.
However should Apple scrap the iPhone 5 and replace it with the plastic iPhone 5C then any LTE chip it uses is likely to support all networks.
"Siri, Where are you?"
Aside from giving it a plastic case, Apple will want to make sure that sales of the iPhone 5C don't cannabilise its flagship smartphone, the iPhone 5S. One way to do that is to remove certain software and hardware features. Infamous Apple analyst Gene Munster believes one feature the company is planning on removing is Siri - the voice activated personal assistant introduced two years ago with the iPhone 4S.
According to Munster: "We believe that Apple may exclude some software features, such as Siri, which we note was not an option on the iPhone 3GS or iPhone 4 upon launch."
Captured on camera
Doubling down on secrecy has really not worked for Tim Cook and Apple. This week a video emerged on Taiwanese tech site Apple Daily which claimed to show both the iPhone 5S and iPhone 5C.
In relation to the iPhone 5C, the video shows a range of colourful cases (blue, red, green and white) as well as showing the phone will be just under 9mm thin, 124mm tall and 59mm wide.
The creators of the video even go so far as to place a blue iPhone 5C case into a plastic bag with a set of keys and some coins in order to show just how scratch resistant the plastic casing is. The person on the video even goes so far as to purposely scratch the casing with the keys at one point, seemingly without any damage being done.
While we will obviously have to test this for ourselves if and when Apple does launch the plastic iPhone, it's at least a positive start.