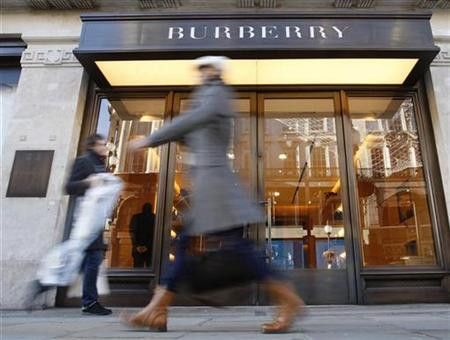 Shares in Burberry were up on the FTSE 100 in morning trading after the luxury fashion retailer strong double digit profit growth in the third quarter ended 31 December.
Total revenue, excluding the group's Spanish business, rose 27 per cent on an underlying basis and 30 per cent on a reported basis to £470 million. In Spain revenue dropped from £18 million to £10 million.
Burberry said its Retail arm had seen underlying sales increase of 36 per cent to £335 million, thanks to strong sales of outerwear and large leather goods combined with a strong performance in China.
Wholesale revenue rose 15 per cent to £112 million, again thanks to growth in China and strong consumer demand.
Angela Ahrendts, Chief Executive Officer of Burberry, said, "The Burberry team delivered a 30% increase in revenue in the third quarter, with strong, consistent growth in both retail and wholesale and in every product division and region. As a result, we now expect adjusted profit before tax for the current financial year to be at the top end of market expectations. Ongoing initiatives in retail, digital, product development and new markets underpin our confidence in the future."
By 09:35 shares in Burberry were up 2.55 per cent on the FTSE 100 to 1,086.00 pence per share.