Burundi: Who is embattled President Pierre Nkurunziza?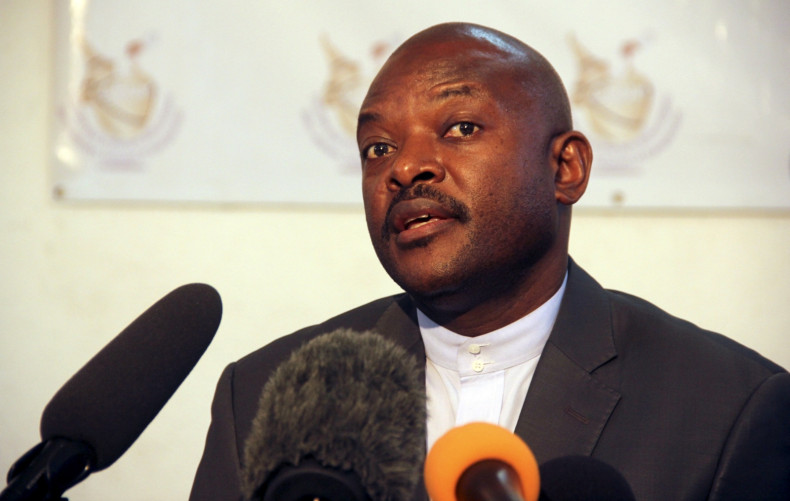 Burundi President Pierre Nkurunziza, the son of a Tutsi mother and a Hutu father, was born with politics in his blood just a year after the country celebrated its independence from Belgium in 1962.
His father, Eustache Ngabisha, was elected to the national parliament in 1965 and later became governor of two provinces.
Nkurunziza was just nine when his father was killed during ethnic violence driven by an all-Hutu organisation, the Burundi Workers' Party, which carried out systematic attacks against Tutsis, killing more than 10,000.
The military regime responded with large-scale reprisals that claimed the lives of more than 100,000 Hutus and more than 10,000 Tutsis.
From sports teacher to rebel fighter
Born in Burundi's capital Bujumbura, Nkurunziza grew up in the country's northern region of Ngozi, some 130km from Bujumbura.
After graduating from the University of Burundi in 1990 with a degree in physical education, Nkurunziza, who enjoys playing football and cycling, became an assistant lecturer at the university and started teaching in high schools.
Having already lost his father to ethnic violence, Nkurunziza was 30 when the civil war erupted in 1993, killing two of his six siblings.
Two years later, the survived an army attack on the university campus that killed 200 students.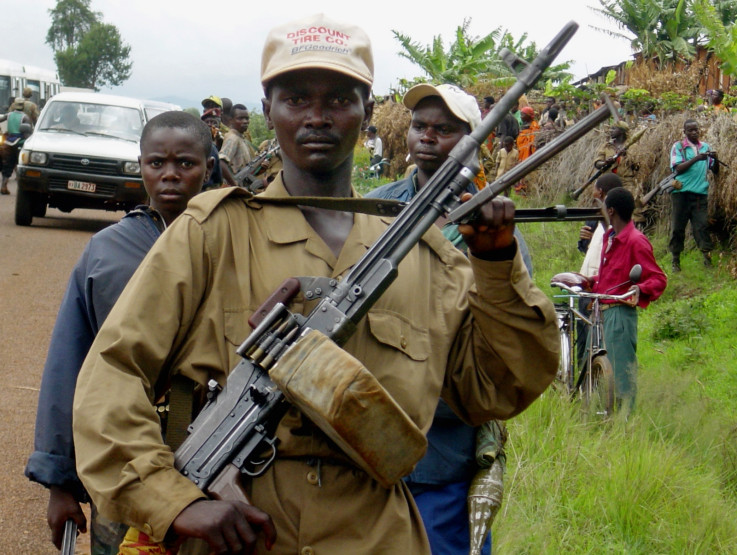 Rebels of the rebel group FDD arrive in Gitega, central Burundi in December 2003 as their leader Pierre Nkurunziza left his forest hideout for the capital Bujumbura to work on implementing a peace deal he signed ending the civil war
Reuters
The army missed him as it fired shots at his car before torching it, leading Nkurunziza to join the Hutu rebellion with the Forces for the Defense of Democracy (known under its French acronym as FDD), which was the armed wing of a Hutu exile group, the National Council for the Defense of Democracy (CNDD) as a soldier. He sustained a serious mortar injury during the struggle.
"This war was forced on us; we did not start it," he told the IRIN humanitarian news agency in 2004.
Three more of his siblings died while fighting in the CNDD-FDD; only one of his sisters is alive today.
Rising in the CNDD-FDD ranks
In the late 1990s and early 2000s, the CNDD-FDD split into several factions and Nkurunziza was elected chairman of one in 2001.
It was in this capacity that he led negotiations between his faction of the CNDD-FDD and the then-president, Domitien Ndayizeye, which resulted in a peace accord in 2003.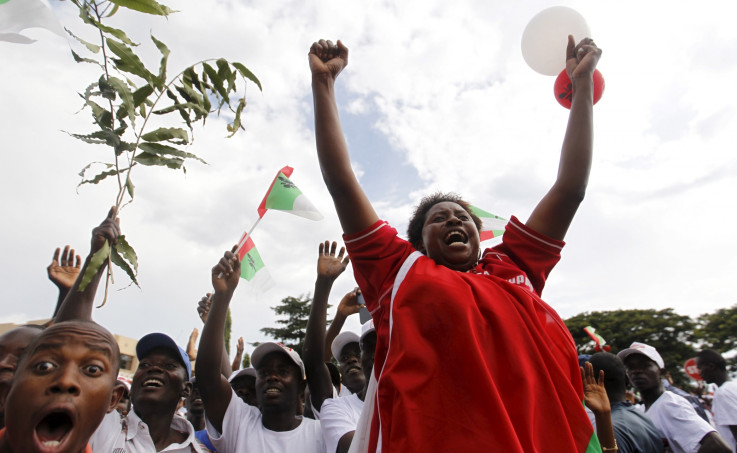 Supporters of President Pierre Nkurunziza chant slogans after their ruling CNDD-FDD congress meeting in the capital Bujumbura, on 25 April 2015
Reuters
While a Burundian court had sentenced Nkurunziza in absentia to death for his rebel activities within the CNDD-FDD in 1998, the young leader received immunity from prosecution for war crimes as part of the peace agreement.
He joined Ndayizeye's transitional government in 2004 as minister for good governance.
A year later, after a nomination as the CNDD-FDD party's presidential candidate, he was elected president unopposed by members of parliament on 19 August 2005.
Praised for his endeavour
Nkurunziza, who inherited a broken country, has been praised for restoring peace and concord among the Burundian people, through policies aimed at reconstruction and reconciliation, economic recovery and political stability.
To dispel fears of a Hutu-dominated rule, the president recruited Tutsi members to the NCDD-FDD, and his cabinet included 11 Hutu and 9 Tutsi – who were all serving in government posts for the first time. Seven of the new ministers were women.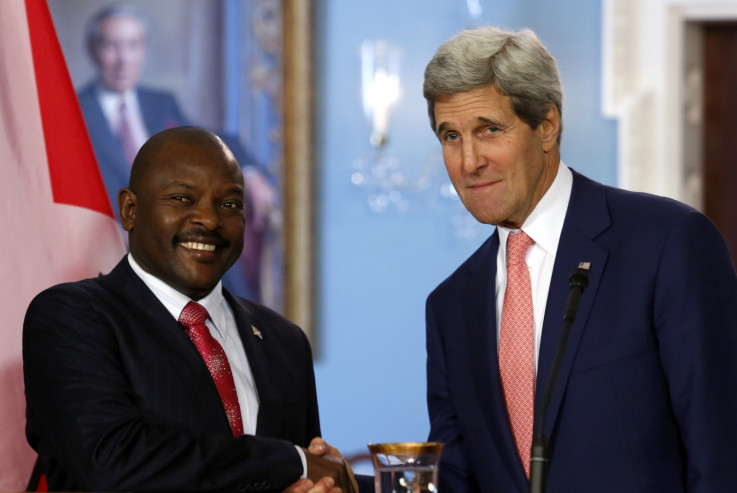 US Secretary of State John Kerry meets with President of Burundi Pierre Nkurunziza at the State Department in Washington in August 2014
Reuters
Despite a fragile peace process, he also brokered a ceasefire in Tanzania with the last Hutu rebel group remaining, the National Liberation Forces (Forces National de la Libération; FLN) in 2006. The truce was officially signed in December 2008 when Nkurunziza met with FNL leader Agathon Rwasa.
Faced with massive economic problems, the president raised $2bn in foreign capital to invest in agriculture and led Burundi into the East African Community economic bloc in 2006. A year later, he also pushed for the reformation of the Economic Community of the Great Lakes Countries, a trade organisation including Burundi, the Democratic Republic of the Congo and Rwanda.
Recognised for his efforts, Nkurunziza became the first African president to be awarded the "Model Leader for a New Africa Award" by AFREG (African Forum on Religion and Government), a Florida-based religious organisation with a sub-office in Accra, Ghana, in August 2009.
A repressive presidency
In 2010, the presidential election campaign and election proceedings were marred by violence prompting the withdrawal of all six of his opponents. Amid a very low voter turnout, Nkurunziza was re-elected with more than 91% of the votes.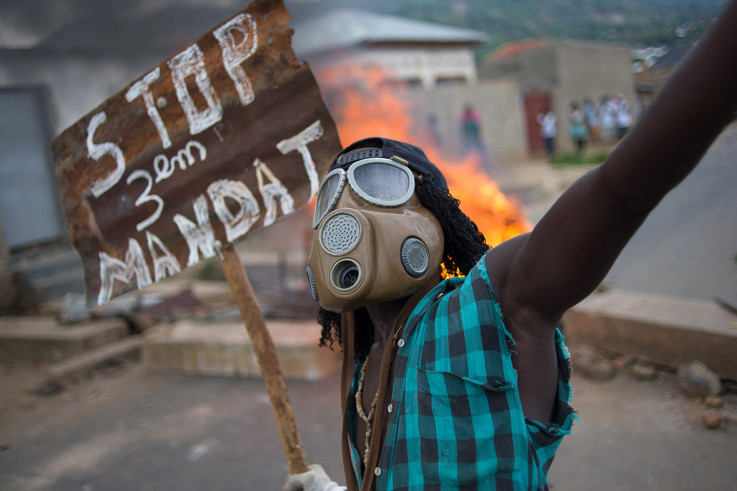 A protester wearing a gas mask and holding a sign that reads "Stop the third mandate" chants near a burning barricade in the Mugasa neighbourhood of Bujumbura
Phil Moore/AFP
Since 2010, opposition leaders and international observers have complained of increasing attacks and pressure on opposition parties and the media. Some critics have likened his behaviour to that of a dictator.
In March 2014, for instance, Nkurunziza banned jogging, due to "fears it was being used as a cover for subversion". That same month, the BBC reported 21 supporters of the opposition Movement for Solidarity and Democracy (MSD) party were sentenced to life in prison for using "jogging" as a way to organise "an illegal demonstration" that turned violent.
Five years later, his bid to prolong his 10-year tenure has provoked daily, often violent protests, as many, including some within his own party, see his candidacy as a violation of the country's constitution as well as the 2000 Arusha Agreement that had paved the way to ending Burundi's civil war.
The Constitution, they say, bars the president from running for a third term. However, Nkurunziza's allies say his first term does not count as he was appointed by parliament and not directly by the people.