Angry Burundians have continued to protest on the streets of Bujumbura, defying the government's ban on any further demonstrations against President Pierre Nkurunziza's bid for a third term in power.
The protests started on 25 April after the ruling party nominated Nkurunziza to run again in elections set for June. Burundi's constitution states a president can run for only two five-year terms. Nkurunziza maintains he can run for a third term because Parliament elected him for his first term, rather than the general public.
Many of the photos taken in Bujumbura over the past few days show protesters wearing bizarre home-made masks – from simple balaclavas and scarves to elaborate headgear made of branches and leaves.
Phil Moore, a photojournalist covering the protests for AFP, says: "It appears to me to be more of a question of style than of masking their identity. I can't help but wonder how much of the visual appearance of these protest movements – not just in Burundi, but worldwide – is influenced by how people see other protests on television, or in print. Theatrics play an important role in activism, and capturing the world's attention."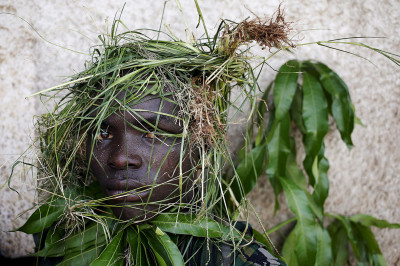 Some of the protesters were pictured brandishing a dead bird. Moore says this is a reference to the ruling CNDD-FDD party's emblem: an eagle.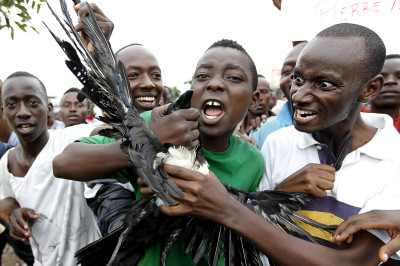 Other protesters have taken to covering their faces with soot. Some have theorised that this "blacking up" could be racially motivated, as Hutus are believed to have darker skins than Tutsis.
However, Fulvio Beltrami, a journalist based in east Africa, believes Burundians have overcome ethnic tensions over the years. He says the protest is political, and this is shown by the fact that demonstrators are both Tutsi "and also Hutu who feel betrayed by their party".