The International Committee of the Red Cross (ICRC) is hoping to resume the evacuation of civilians and injured people from Aleppo after the plan collapsed on Friday (16 December).
The evacuation suffered a setback after both sides in the conflict reported shooting at a crossing point into the besieged city.
At least 6,000 people left on Thursday under the fragile truce.
Since the deal collapsed, people have been left stranded in freezing conditions without access to food or water.
A new agreement has now been reached between the government and rebel fighters.
"We are getting ready to resume the evacuation of people from eastern Aleppo, hopefully this morning," ICRC spokeswoman Elodie Schindler told Reuters in Geneva on Sunday (18 December).
The World Health Organization's (WHO) Syria representative, Elizabeth Hoff, said she expects the evacuation to get underway at 12pm GMT (2pm local time).
Buses are entering Aleppo under the ICRC and Syrian Arab Red Cross' watch, according to Syrian state news agency, Sana. It added that 100 vehicles would transport people out of the city.
Under the latest deal, people will be allowed to leave from two Shi'ite villages, Foah and Kefraya, in Idlib province, which are besieged by rebels.
According to state media reports, government forces would only allow civilians and fighters to leave eastern Aleppo once Shi'ite civilians from the pro-government towns are allowed out.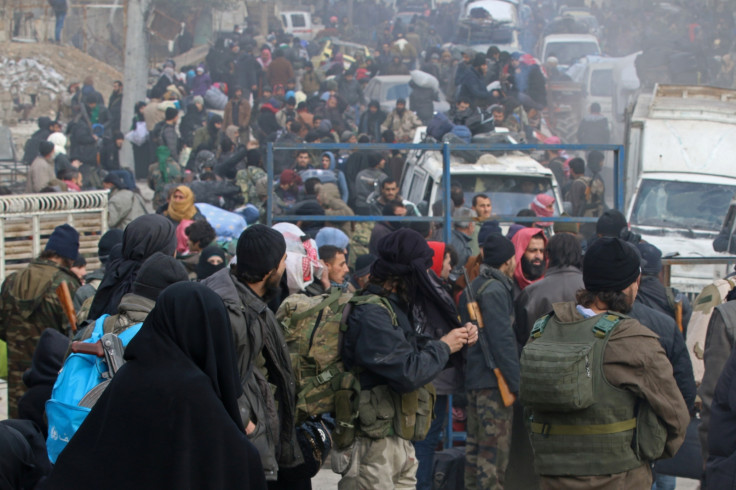 Around 1,200 people are set to be bussed out of Aleppo in return for a similar number from Foah and Kefraya.
The UN Security Council is set to vote on a French-drafted resolution today.
According to the Associated Press (AP), it would give the UN and its partners immediate and unconditional access to the besieged parts of Aleppo and across Syria to ensure the delivery of humanitarian aid.
It also calls on Secretary-General Ban Ki-moon to send out staff who are already on the ground to conduct "neutral monitoring" and "direct observation and to report on evacuations".