A deal to evacuate citizens from eastern Aleppo has been cruelly snatched from the local population as heavy shelling resumed in the Syrian city on Wednesday (14 December).
The collapse came just hours after Tuesday's ceasefire. Despite buses pouring into the bereft city to escort people away from the horrors of war, evacuations did not take place and people remain trapped without food, water, electricity and functioning hospitals.
Internationally, anger over the plight of the Syrian people appears to have reached breaking point amid a "complete meltdown of humanity". Hundreds of protesters turned up outside Downing Street on Tuesday (13 December) to demand immediate action from the British government.
In the meantime, here are some ways to help the people of Aleppo:
You can support a number of charities and organisations, such as the International Committee of the Red Cross (ICRC) and Syrian Arab Red Crescent (SARC). They are on the ground and "scaling up their response to help those displaced in recent violence, but the needs are massive, and the ongoing fighting and insecurity make aid deliveries and repairs difficult."
The ICRC and SARC are providing aid to newly displaced people in Mahalej and Jibreen shelters in Western Aleppo. The includes hot food, water, improved sanitary conditions, mobile health units and assisting people to find loved ones.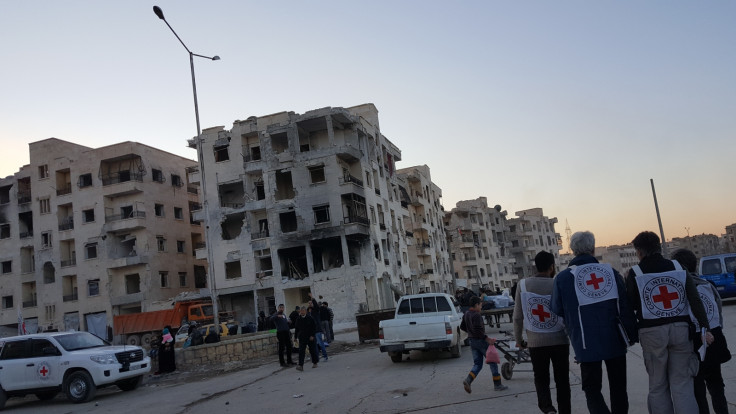 They are also helping returnees in Masaken Hanano in Eastern Aleppo. "People continue to return to destroyed or semi-destroyed buildings in Masaken Hanano in Eastern Aleppo, risking their life in an area which has no basic services, no water and no electricity," the ICRC told IBTimes UK.
"The ICRC and the SARC are working around the clock to provide lifesaving aid to the returnees. A Mobile Health Unit is providing services for 12 hours per day and treating around 300 patients daily. Repairs are undergoing for the houses in the area. Food, including bread, food parcels and hot meals, is provided to the returnees, in addition to mattresses, blankets and other basic necessities are distributed."
Other groups such as Save the Children are operating in Syria and have a number of partners on the ground in Aleppo, including doctors, teachers, ambulance drivers and others. "Any way we can support our Syrian partners to alleviate the suffering, we're examining, but it's very difficult," the country director for Save the Children's North-West Syria response, Nick Finney, told IBTimes UK from the Syria-Turkey border.
"Supplies can be prepositioned in Turkey but we can still move supplies into Syria across the border, that's ok. Getting down to the places where they're needed in and around Aleppo city seems almost impossible at the moment.
"But we have to anticipate there will be a change, [that] there will be some access and we have to be ready to respond quickly when things do become possible. That's most likely when people are allowed to leave when their urgent needs can be met," he added.
"What can be done?" asked Finney. "Well, lots of organisations – Syrian NGOs, international NGOs are on the ground and as soon as people move, we can help them so most of those organisations have active appeals for Syria and for Aleppo in particular."
MercyCorps is a global organisation with programmes in more than 40 countries. Their team in northern Syria is standing by to meet newly displaced people with food, blankets and other essential assistance.
To donate to MercyCorps, click here
Here is a list of other organisations working in Syria and assisting refugees.
Other ways to help the besieged people of Aleppo is by making your voice heard. This can be done by joining – or organising – protests, contacting your MP or MEP to ratchet up the pressure on politicians and demanding a bigger intake of refugees.
"It couldn't be more urgent [for politicians to hear the British people's messages on Aleppo]," said Finney. "We don't know if these people will see the next day so every hour matters. I was really encouraged [by the] general public in the UK to pile up the pressure knowing there might not be a tomorrow for some of the people they're concerned about."
The UK government has committed to settling 20,000 Syrian refugees in the UK by 2020, but is way off target, having taken in just under 3,000, according to the Refugee Council. In February 2016, there were more than 4.5 million Syrian refugees in Turkey, Lebanon, Jordan, Iraq and Egypt alone.
You can contact your Local Government Association (LGA) if you are prepared to foster an unaccompanied refugee child, the Independent noted.