Syrian government officials have systematically tortured and executed about 11,000 detainees, according to a report by three former war crimes prosecutors.
The lawyers examined some 55,000 pictures, most of which depicted young men's corpses, mostly between the ages of 20 and 40.
The bodies in the photos showed signs of starvation, emaciation, brutal beatings, strangulation and other forms of torture and killing.
"The appearance of a large number of young people in the photographic images, with no apparent injuries, is suggestive of death by unnatural means [...] The forensics team make clear that there are many ways in which an individual may be killed with minimal or even absent external evidence of the mechanism," the report explained.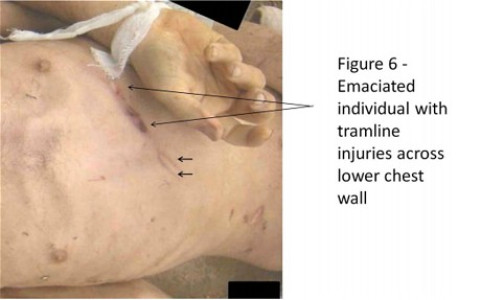 The pictures were taken by a defector who had been working for the Syrian government and who is addresses in the report as "Caesar".
"Since the civil war against the current regime began, his [Caesar's] job changed from taking photographs of crime scenes and accidents to 'taking pictures of killed detainees'.
"[..] When a detainee was killed each body was given a reference number which related to that branch of the security service responsible for his detention and death.
"When the corpse was taken to the military hospital it was given a further number so as to document, falsely, that death had occurred in the hospital," the report said.
"The reason for photographing executed persons was twofold. First to permit a death certificate to be produced without families requiring to see the body, thereby avoiding the authorities having to give a truthful account of their deaths; second to confirm that orders to execute individuals had been carried out," the report continued.
According to the prosecutors, the evidence supports war crimes and crime against humanity against the current Syrian regime.
The Guardian newspaper in the UK - which along with CNN first unveiled the report - says that the release appears timed to coincide with the Syria peace conference, which is due to start on Wednesday in Switzerland.
The Syrian government has not yet commented on the report.
Both the UN and independent human rights groups have documented abuses by both President Bashar al-Assad's government and rebels, however experts say this evidence is more detailed and on a far larger scale than anything else that has yet emerged from the 34-month-conflict.
The UN withdrew its invitation to Iran to attend the conference, after Syrian main anti-Assad group, the Syrian National Coalition (SNC), threatened to boycott the upcoming conference.
The conference has already appeared highly unlikely to produce any major steps toward ending the war as Assad will run for re-election.
"I see no reason why I shouldn't stand," Assad said in an interview with news agency AFP.
"If there is public desire and a public opinion in favour of my candidacy, I will not hesitate for a second to run for election."