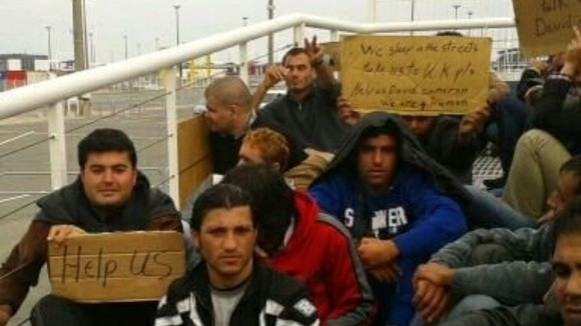 Two Syrian refugees in France's Calais port have threatened to jump off a building's roof after French riot police attempted to break up a protest staged by a group of asylum-seekers who are demanding to get to Britain.
Around 60 refugees have occupied the footbridge of a ferry terminal at Calais from which ferries leave for the UK. Twenty of them are on the third day of hunger strike and demand that a UK border agency official come and meet them in Calais to grant them refugee status in Britain. They said they were treated worse than "animals", according to the Al-Akhbar website.
However, 50 police officers from the CRS anti-riot squad were ordered to move in and clear the refugees from the occupied footbridge.
In response to the raid, two refugees threatened to hurl themselves off a building if the police approached.
In the aftermath, the prefect of the Pas-de-Calais region Denis Robin offered the Syrians the right to asylum. "Today, the Syrians present here are caught in a stalemate. What we can do is to offer them a status on French territory [...] in other words to make a request for asylum," Robin told reporters.
"We cannot take any decision on their access to Britain," Robin said. "I am not persuading them to settle in France but trying to legalise their status."
France Foreign Minister Laurent Fabius has promised that the Syrians will get a fast track to asylum.
The UN refugee agency has said 17 countries, including France, have agreed to receive quotas of refugees fleeing the bloody conflict in Syria.