Calvin Harris is once again the world's richest superstar DJ. The Slide hitmaker has been named the highest-paid DJ by Forbes for a sixth consecutive year with eye-watering earnings of $48.5m (£37.4m) in the past year.
According to the publication's electronic cash kings list, Harris, 33, is one of Electronic Dance Music's most bankable artists due to his crossover appeal. Over the years, the Summer producer has mixed dance with pop and most recently made a successful transition into funk with his new album Funk Wav Bounces Vol. 1.
Harris is now on course to knock Justin Bieber's Despacito from the number one spot in the UK with his star-studded summer jam Feels featuring Katy Perry, Big Sean and Pharrell Williams. Thanks to his commercial triumph, the Scottish DJ is able to command a six-figure fee for his Las Vegas residency and seven-figures for festival performances.
In second place is Netherlands-born Tiesto with an impressive $39m salary from June 2016 to June 2017. The 48-year-old has managed to keep up with his younger counterparts by performing a mammoth 134 shows in the scoring period while receiving six-figure fees each night.
The Chainsmokers make their debut on the electronic cash kings list with a staggering $38m shared between. Andrew Taggart and Alex Pall are making bank after signing a lucrative three-year deal for a Las Vegas residency with Wynn Nightclub to perform exclusively at XS and Encore Beach Club until 2019. Thanks to chart hits such as Closer and Paris, The Chainsmokers have enough draw to keep the dancefloors packed.
Justin Bieber may take some credit for Skrillex entering the list at number four with earnings of $30m in the past 12 months. Their collaboration, Sorry, is still a favourite in clubs around the world while amassing 2.5 billion YouTube views. It is likely to continue earning the producer a tidy sum more than a year later.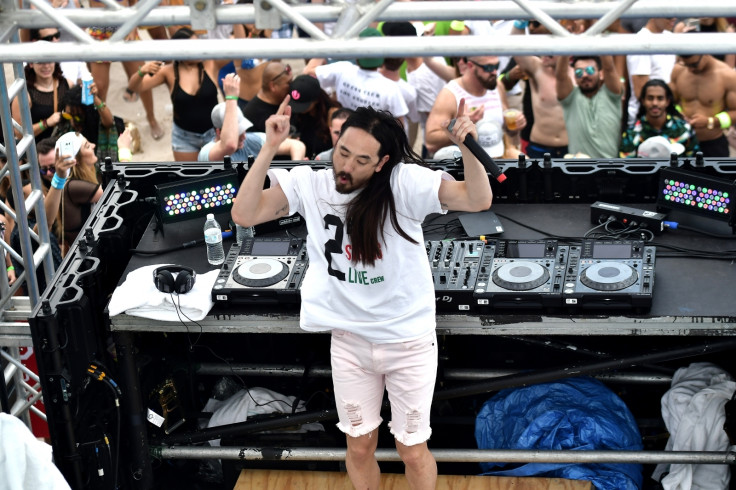 Rounding off the top five is Steve Aoki, 39, who performed 200 shows in the past year and sometimes averaged two gigs per day. Endorsement deals with brands such as T-Mobile, sparkling winemaker Luc Belaire and Japan's largest airline ANA, produced a salary of $29.5m for Aoki.
Anonymous DJ Marshmello is also a new entry on the top 10 list at number eight with $21m. Addressing the newcomer's popularity, Marshmello's manager, Moe Shalizi, told the publication: "We're creating more of a faceless brand. That's Marshmello ... he's only about two-and-a-half-years-old and he's one of the biggest DJs in the world."
It seems the popularity of EDM is on the rise as 2017's group have pulled in $298m combined, a jump on 2016's collective earnings of $270.5m. Other prominent DJs like Afrojack, DJ Snake, Deadmau5, Kaskade and Dmitri Vegas & Like Mike enjoyed successful years but not quite enough to make the top 10.
Forbes' highest-paid DJs 2017
1. Calvin Harris: $48,500,000
2. Tiesto: $39,000,000
3. The Chainsmokers: $38,000,000
4. Skrillex: $30,000,000
5. Steve Aoki: $29,500,000
6. Diplo: $28,500,000
7. David Guetta: $25,000,000
8. Marshmello: $21,000,000
9. Martin Garrix: $19,500,000
10. Zedd: $19,000,000
Listen to Calvin Harris' Feels: