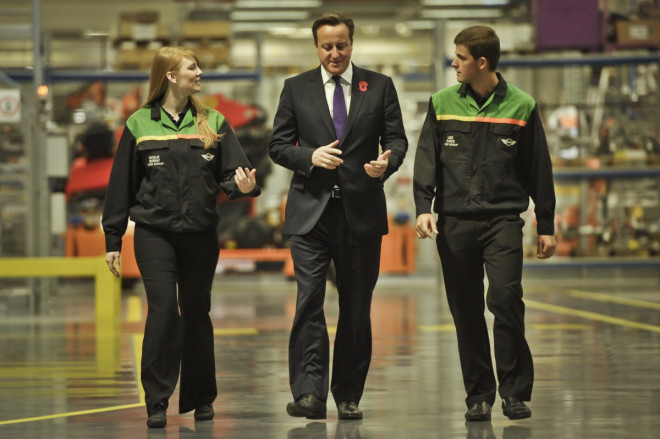 David Cameron has attempted to meet Labour's "cost of living" crisis attacks head-on by admitting people were not yet feeling the benefits in their pay packets.
As the prime minister and chancellor George Osborne continued their post-budget campaign to keep the political argument firmly on their territory, Cameron said the benefits of recovery had been coming in job creation.
And on the second day of his "economic tour" of English regions, he insisted incomes would increase, but only if voters stuck with him.
"We've seen this recovery so far come in jobs, in more people getting into work, rather than in increases in wages.
"Now, over time I think wages will increase. But if the question is: 'does it take time for people to really feel a recovery?' Yes, absolutely it does.
"All the more reason for sticking to our long-term economic plan and not going back to the bad old days of more borrowing, more spending and more debt," he told the BBC.
Meanwhile, giving evidence to the Treasury committee of MPs, the chancellor said he used to face Labour questions about his "plan B" for the economy. "I am not being asked that today," he said.
He was even praised by one Tory MP for the "stunning coup" of his budget as he brushed aside Labour attacks on the package which failed to land any damaging blows.
The prime minister is using what amounts to a full-blown election campaign tour to drive home the political advantage handed to him by the budget and the economic recovery.
He is particularly focused on job creation following positive figures recently which showed 10,000 jobs were created in three companies in the West Midlands.
But he also took the opportunity to distance himself further from his coalition allies after the second debate between Liberal Democrat deputy prime minister Nick Clegg and Nigel Farage which handed the Ukip leader a decisive victory.
Branding both Clegg and Farage as "extremists" he said: "Nick thinks there's nothing wrong with Europe and we shouldn't have a referendum, and Nigel thinks there's nothing right with Europe and we should just get out and leave. They're both wrong."
What all of these threads amount to is further evidence of the fact, if anyone had still not noticed it, that Cameron, and the other parties, are in full election mode.
The current concern is the looming Euro parliament poll next month, which will be the springboard for the general election campaign a year later.
Fears that Ukip is already on the march have also been intensified by the two live debates between Clegg and Farage.
But what Cameron and Osborne are more concerned about is the cost of living and whether voters will start to feel the benefits of growth in their pay packets and, if not, whether they can persuade them the benefits are imminent and Labour would throw it all away.