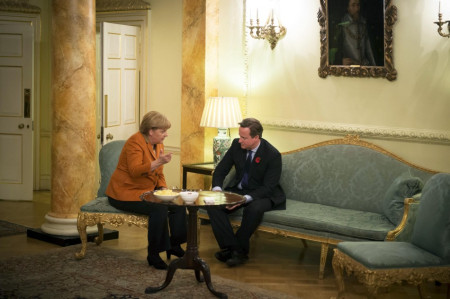 The impasse over the EU budget has cast a shadow over talks between David Cameron and the German Chancellor Angela Merkel, although the British side described the discussions as "open, warm, and friendly."
The prime minister has been calling for a cut or freeze in the controversial EU budget, which will take effect in 2014 and last for seven years. However Merkel insists on an increase.
Sources close to the talks suggest they are likely to be extended.
Speaking at an official dinner ahead of the talks, Merkel said that she does not want to see the UK out of the EU.
"I think it is good also for the UK to be part of Europe. If you have a world of seven billion, and if you are alone in that world, I don't think that is good for the UK. So I will do everything to keep the UK in the EU as a good partner, and that is why I'm going to London and I will ask the inhabitants of the wonderful island to reflect that they will not be happy if they are alone in this world," said the German chancellor.
Merkel refused to make any remark when persistently asked about the budget freeze but said: "I beg leave to first discuss this with the prime minister. What is in my interests is that we use our money effectively."
Cameron reiterated that he would do everything possible to "get a good deal for Britain".
The UK has been threatening to veto any increase in the EU budget and holds firm on the European countries living "within their means". Cameron said: "They are proposing a completely ludicrous €100bn increase. I never had very high hopes for a November agreement because you have got 27 different people round the table with 27 different opinions."
The leaders of the 27 member states are scheduled to meet on 22 November over the €1 tn (£800 tn) budget.
Cameron has been facing opposition from his own Conservatives over the EU budget. A week back, Tory rebels along with the opposition passed an amendment on the EU budget cuts, much to the embarrassment of the prime minister.