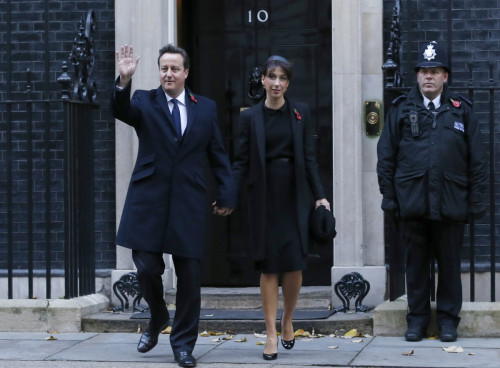 UK Prime Minister David Cameron has kicked off his new year election offensive with a headline-grabbing pledge to protect the value of state pensions until at least 2030 if he wins next year's poll.
With 2014 looking like the start of the longest UK election campaign yet, Cameron is determined to snatch back some of the ground lost to Labour's Ed Miliband last year over the cost of living crisis.
By promising to keep the "triple-lock" on pensions – meaning they will always rise in line with wages, inflation or by 2.5%, whichever is highest – he has started with a bold policy that will certainly spark some frantic searching for a matching pledge from Miliband.
The Labour leader did attempt an equally robust election promise by announcing a Labour government would stop employers exploiting a loophole that allows firms to use agency workers as a way of paying low wages. But it was Cameron's pensions guarantee that made the early running.
However, the prime minister may not get the entirely unalloyed positive response he was planning for when he mapped out the new manifesto commitment over the Christmas break.
For a start, in both his newspaper interview which unveiled the proposal, and in a later BBC appearance, he failed to rule out further lowering the top rate of tax from the current 45%, already down from the Labour government's 50%.
In fact, by stating that the lower rate was already bringing in more tax revenue than the higher rate, he suggested he may reduce it further.
He told the Sunday Times: "It just seemed to me that if your top rate of tax is not raising the money that it should, and it's holding back the competitiveness of the economy, then even if it's politically unpopular to change it, you must do it.
"Having a top rate of tax of 50p is just going to hold Britain back. And what we've seen since the change is actually the growth of tax revenues."
Later, perhaps recognising he might have offered a weapon to Labour who will talk about tax cuts for millionaires, he also insisted if he had any money in the coffers now, he would choose to help those on the lowest incomes first.
But that will not stop him being pressed hard between now and the election to state clearly whether he would ultimately favour reducing the top rate of tax even further.
There are plenty of Tories who would desperately like to hear him promise tax cuts, while party strategists know how that would be portrayed by Labour and how it would play during a period of austerity.
Just as undermining, though, was Cameron's refusal to rule out scrapping some pensioner benefits, such as winter fuel payments, as a way of meeting the costs of the triple-lock guarantee.
Pressed on the issue, he would only say that it had been a manifesto promise before the last election and he had kept it, but as for the next election: "We will set out our plans in our manifesto."
So no guarantees and questions will be raised over what will have to be cut to meet the pensions pledge, with benefits bound to be near the top of the list of demands.
There are two significant factors behind Cameron's decision to target the over-65s and both have been highlighted by polling carried out by Tory Lord Ashcroft.
Firstly, 46% of pensioners who have not decided how to vote next year say they would consider backing Cameron. The over 65s always vote in far greater numbers than younger people, with turnouts of around 68%, so the prime minister's promise is clearly aimed directly at them.
Secondly, there is evidence that older voters are more likely to favour Ukip, and Ashcroft's polling shows 67% of those likely supporters prefer Cameron to Miliband. So by offering a promise to pensioners, the Tories are clearly hoping to woo them away from Nigel Farage's party.
The prime minister insisted his promise was "a choice based on my values," adding: "People who have worked hard, done the right thing and provided for their families … should be given dignity and security in their old age."
But few doubt that what this promise amounts to is a concerted, and costly attempt to shore up Tory support among the over 65s. And there was immediate good news on that front with over-50s lobbying group Saga declaring: "(It) will be warmly welcomed by British pensioners, giving them confidence that their lifetime of work will be properly valued by society."