The Conservatives face a "knife-edge" vote if they field a candidate against Zac Goldsmith in the Richmond Park by-election, according to Anthony Wells.
The YouGov research director told IBTimes UK that such a decision would leave the London seat vulnerable to the Liberal Democrats.
"If the Liberal Democrats got the same swing as [the] Witney [by-election], it would put it right on a knife-edge," Wells said.
"They can't afford to split the Conservative vote with Zac Goldsmith versus another Conservative."
It would be unheard of if the Tories failed to contest the constituency.
But Wells warned the party faces a serious dilemma over the seat since Foreign Secretary Boris Johnson and Education Secretary Justine Greening can openly protest the Heathrow decision.
"On what grounds would you oppose Goldsmith? It's easy to justify if my own foreign secretary has identical views to Goldsmith about this," he said.
If Goldsmith was given a free run, Wells said the environmentalist's personal vote would be crucial.
"Whether his voters will punish this as an act of vanity or see it as a brave man leaving his party and standing on a vote of principle," he said.
Wells' instinct is that the Richmond Park electorate will see Goldsmith's Heathrow protest as "standing up for the constituency", while the Old Etonian's six years in parliament and failed bid to become Mayor of London means he is well known in the area.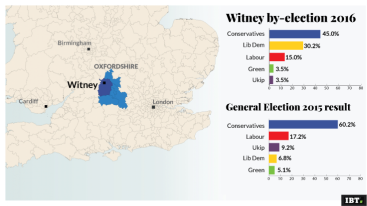 Matt Singh, founder of Number Cruncher Politics, also warned of a split Conservative vote if the party challenges Goldsmith.
"You would assume some of [the vote] will go to Goldsmith and some of it will stay with the Tories," he told IBTimes UK.
As for Goldsmith's personal vote, Singh is still delving into the data. But said Goldsmith would have a "good chance" against the Liberal Democrats if the Tories decided not to field a candidate.
"The Conservative voters are probably going to go with him. But if it's a three way split, the Liberal Democrats could look pretty good in that situation," Singh explained. "The Liberal Democrats are going to be looking at this very excitedly."
The polling expert also pointed out that 34% of Richmond Park voters support expansion of Heathrow Airport.
A Populus survey, of more than 800 people in the West London seat between 1 and 3 August, also found 52% of respondents opposed a third runway. "If [Goldsmith] is trying to make this into a local referendum....it's not as though everyone is against it."
UPDATE: 7:40 BST, 26 October
The Conservatives have decided not to field a candidate against Goldsmith.