The Conservatives face some serious soul-searching after the Witney and West Oxfordshire by-election result was revealed this morning (20 October).
New Tory MP Robert Courts was always going to retain David Cameron's old Westminster seat, but his majority has been dramatically slashed to just over 5,700 votes.
Cameron, in comparison, had secured a majority of more than 25,000 votes at the general election over Labour.
But the Liberal Democrats seemed to have revived their infamous ground war operations, with no less than four visits from leader Tim Farron to the seat.
Other party heavyweights such as Paddy Ashdown and Nick Clegg also played their part, with local press coverage to match.
The tactics paid off as Liberal Democrat candidate Liz Leffman attracted 30% of the vote and a second place.
Farron claimed fears of a so-called "hard Brexit" helped the pro-EU party.
"Voters who used to support Cameron are turning away from a Conservative Party that is divisive, uncaring and extreme," he said.
"This is a shot across Theresa May's bows, and the pressure will now be intense to abandon plans for a hard Brexit, and instead to give parliament a vote on the terms of our negotiations."
It is hard to extrapolate how much the EU issue played into the by-election. But it is worth noting Courts backed a Brexit.
Labour strategists will also have a headache this morning. The party was pushed into third as Duncan Enright saw his share of the vote reduced by more than 2%, an undesirable result for the official opposition.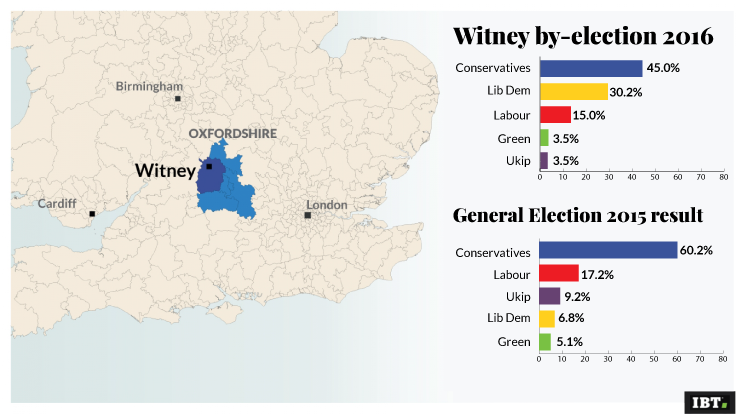 Will fingers be pointed at Jeremy Corbyn or will his allies blame recent in-fighting? Finally, there is Ukip.
The self-styled "People's Party" came third in Witney at the general election. The Eurosceptics secured fifth place yesterday behind the Greens' Larry Sanders, brother of Bernie.
With May's commitment to a Brexit and her pro-grammar schools policy, a leaderless Ukip faces turmoil.
Westminster watchers may make much of the Witney by-election, but it is important to reiterate the vote was not a national or even a regional ballot.